Fishing Outlook & Conditions
Hunter Mountain Sports & Expeditions's Tip of the Week
With the main body of the stream to high and discolored to fish right now the smaller tributaries will clear much quicker. Now would be a great time to go after the elusive Brook Trout. Grab you six foot rod and head way up stream.
Water Flow Data
5-Day Outlook
as of 7/21/21
The heavy rain over the last few days has left the rivers too high to fish safely right now. It will take a few days for them to lower and clear up. The fishing should be very good after this happens because most fish cannot feed during the high water. Be prepared to switch back to streamers and heavy nymphs as conditions will be more like spring.
Techniques & Tips
as of 7/21/21
Current conditions are changing rapidly right now so choosing the correct flies can be a little tricky. Now is a good time to fish a dropper rig. With the current hatches your best bet would be a #12 Stimulator fly with a #16 Prince Nymph tied sixteen inches behind.
Local Species
Available April 1 through November 30
Trout
Hunter Mountain Sports & Expeditions's

Recommended Fly Patterns

"Must-have" fly fishing patterns in descending order of importance:
| Name: | Colors: | Size(s): |
| --- | --- | --- |
| Rusty Spinner | Rust | #14 |
| Perfect Wing Spinner | Green | #18 |
| Light Hendrickson | White | #12 |
| Bead Head Prince | Green | #14 |
| Yellow Sally | Yellow | #18 |
| Sulphur Parachute | Yellow | #16 |
Rusty Spinner
Tie on this classic trout dry fly when fish start to get picky.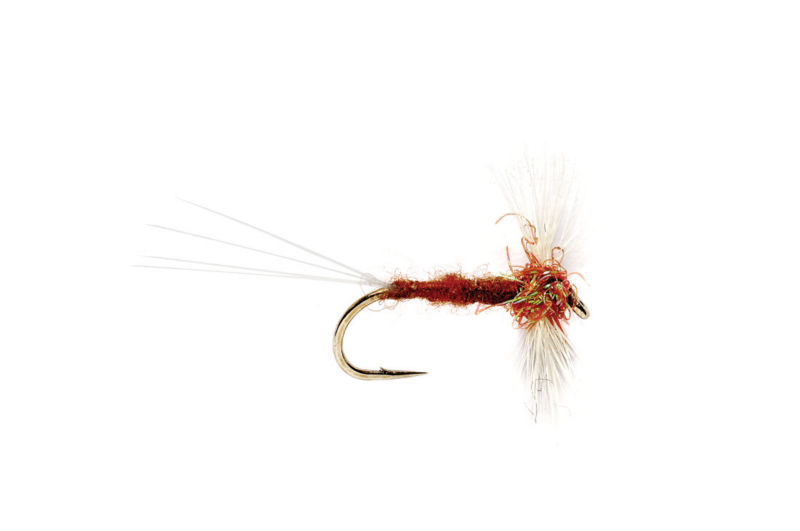 Hunter Mountain Sports & Expeditions's

Recommended Gear
Description:
About Esopus Creek
The Esopus Creek is located in the north eastern Catskills and is one of many tailwater streams that link together the extensive reservoir system which supplies New York City with some of the purest drinking water on the planet.The main source of water comes from the Schoharie Reservoir and the stream travels several miles to flow directly into the Ashocan Reservoir. The flow of water from the Schoharie Reservoir is directed through an underground portal system that delivers very cold water to the Esopus making it one of the premiere trout streams in the world. Unlike most eastern trout streams the rainbow population in the Esopus Creek actually outnumbers the brown population. A large jumping rainbow is my favorite trout on a fly and I have had many days on the Esopus that rival famous western streams. This stream is very friendly to wade and most of the many miles of fishing it represents are accessible to the general public. There is no need to fish shoulder to shoulder in this spacious environment. During the spawn many large breeding fish make their way into the stream from the reservoir and most will make their way back with one of your favorite flies as a souvenir. Because of the migratory behavior of the fish in this stream hiring a local guide would get you into position to lose your flies quicker or maybe even land a few of these wonderful creatures for that perfect picture as your own souvenir.
Nearest Airport:
Stewart International
Hatches:
Light Cahills Caddis Small Yellow Stoneflies Isonychia Sulfurs
Best Time to Fish:
Late mornings or early evenings
Best Stretch:
Stretch of river behind the Emerson Resort
Best Access:
Public parking area east side of the resort