Fishing Outlook & Conditions
Capt. Ken Chambers 's Tip of the Week
Fish the warmest part of the day and spend most time in quiet backcountry bays.
Tide data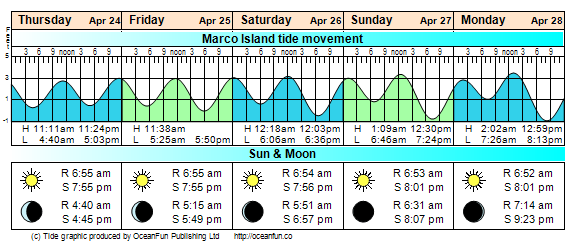 5-Day Outlook
as of 1/23/23
Two fronts moving in but neither are super strong. Winds will be up but the afternoon incoming tide should provide a decent bite.
Techniques & Tips
as of 1/23/23
Small flies are producing around oyster bars. Focus on mild current areas and use a fly that can get down with bead chain eyes or light lead.
Current Conditions
as of 1/23/23
Fronts moving through during the week. We are lucky that we can fish year round. It isn't prime season but there are fish to be found.
Local Species
Available Year round
Snook

Redfish

Tarpon

Seatrout
Capt. Ken Chambers 's

Recommended Fly Patterns

"Must-have" fly fishing patterns in descending order of importance:
| Name: | Colors: | Size(s): |
| --- | --- | --- |
| Lefty's Deceiver | White | 1/0 |
| Puglisi Peanut Butter Fly | Black/Purple | 2/0 |
| Tarpon Toad | Chartreuse | 3/0 |
| Grassett's Snook Minnow | White | 1/0 |
| Clouser Minnow | Chartreuse/White | 1/0-2/0 |
Capt. Ken Chambers 's

Recommended Gear
Description:
About Naples to Everglades
Southwest Florida departures include Naples, Marco Island, and Goodland for fishing in the 10,000 Islands. We offer 1/2, 3/4 or full day trips using fly or spin tackle for snook, redfish, tarpon and more. Our inshore team of expert guides are ready to assist the novice or experienced angler to have a productive day on the water. Fishing is fun for all ages so give us a call now.
Nearest Airport:
RSW-Fort Myers or FLL-Fort Lauderdale
Bait Recommendations:
Thread herring, shrimp, mud crabs, glass minnows, scaled sardines, mosquito fish