Fishing Outlook & Conditions
Bay Street Outfitters's Tip of the Week
It is that time of year when we start seeing reds tailing, get in that grass and start looking!
Tide data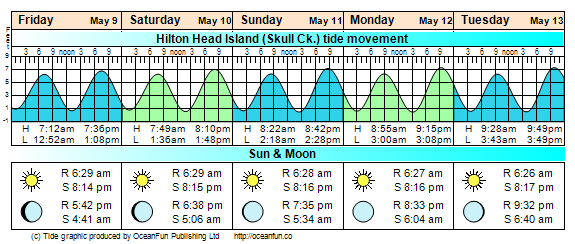 5-Day Outlook
as of 4/10/19
The next 7 days are going to have nice low tides to work with and some great looking weather.
Techniques & Tips
as of 4/10/19
Working the edge of schools during low tide with natural color shrimp or crab patterns is best technique this time of year, but a weed less crab rigged for tails also on the high water should be considered.
Current Conditions
as of 4/10/19
Expect to still see schools on the low and pretty clean water.
Local Species
Available Year Round
Year Round Redfish

Sea Trout

Black Drum Seasonal: Cobia

Ladyfish

Jack

Tarpon
Bay Street Outfitters's

Recommended Fly Patterns

"Must-have" fly fishing patterns in descending order of importance:
| Name: | Colors: | Size(s): |
| --- | --- | --- |
| Grassett's Flats Minnow | olive | 2 |
| Grand Slam Crab | Brown | 2 |
| Doc Hall's Tailing Shrimp | Tan | 2 |
| Kwan pattern | Tan | 4 |
| Clouser (any size) | Olive/white | 1/0 |
| Everglades | Tan | 2 |
| Raz mataz | Root beer | 2 |
Bay Street Outfitters's

Recommended Gear
Description:
About Beaufort/Hilton Head Island
The surrounding inshore waters of Saint Helena and Port Royal sounds form an estuary that makes up twenty-five percent of America's east coast marshland waters. This estuary is made up of more than ten saltwater rivers and hundreds of creeks which support mud flats and wading grass flats. While pressure in the area has grown over the years there are still plenty of days that a trip out results in seeing only nature not another boat. The entire area holds great numbers of Redfish, Speckled Sea Trout, Flounder, and Black Drum year round with Ladyfish, Tarpon, Jack, and Cobia as our seasonal fish. Redfish are the main target for fly casters. Though there is wade fishing available it is extremely dangerous to do this without someone that knows where you can walk because of soft pluff mud. Wading the grass flats requires high enough tides and goes on May through October while sight casting on the mud flats occurs year round. Port Royal sound is one of only two places on the east coast that Cobia come inshore in high numbers. The Lowcountry of South Carolina is unique and challenging due to the expansiveness of the waters and large tidal shifts every six hours. Anglers who enjoy hunting for aggressive saltwater species, making challenging casts, and being in a naturally wild environment will fall in love with the experience of these waters. Each season changes the fishery; gin clear water and huge schools of Reds in the winter, tailing fish in the warmer months, and big Cobia pushing a wake as they enjoy the warm sunlight of the spring.
Nearest Airport:
Savannah, GA or Charleston, SC
Bait Recommendations:
crabs, mullet, and shrimp