Fishing Outlook & Conditions
Orvis Seattle's Tip of the Week
Nymph fishing will be your best option currently. You can also try smaller streamers.
Water Flow Data
Orvis-Endorsed guides nearby
At the present time, there are no endorsed guides on the mainstem Snoqualmie.
5-Day Outlook
as of 11/22/22
Today: Cloudy with showers. High 49F. Winds SW at 5 to 10 mph. Chance of rain 70%. Locally heavy rainfall possible. Wednesday: Cloudy. High 51F. Winds light and variable. Thursday: Sunny, along with a few afternoon clouds. High near 55F. Winds ESE at 5 to 10 mph. Friday: Cloudy with periods of rain. High 46F. Winds light and variable. Chance of rain 90%. Rainfall around a half an inch. Saturday: Cloudy in the morning, then off and on rain showers during the afternoon hours. High near 45F. Winds light and variable. Chance of rain 60%. Sunday: Rain with some snow mixing in in the afternoon. Temps nearly steady in the upper 30s. Winds light and variable. Chance of precip 90%. Monday: Periods of rain and snow. High around 40F. Winds light and variable. Chance of precip 50%. https://forecast.weather.gov/MapClick.php?lat=47.4935&lon=-121.7831#.YqEydv3MK1s https://waterdata.usgs.gov/nwis/uv?site_no=12149000
Techniques & Tips
as of 11/22/22
Try a stonefly nymph with a BWO or Caddis nymph trailing it.
Local Species
Available Check Regulations Depending on if you're fishing the middle fork, South Fork or North Fork
rainbow trout

Coastal Cutthroat trout
Orvis Seattle's

Recommended Fly Patterns

"Must-have" fly fishing patterns in descending order of importance:
| Name: | Colors: | Size(s): |
| --- | --- | --- |
| Adam's Purple Parachute | Purple | 12-16 |
| Patriot Dry Fly | red/blue | 12-16 |
| Rosenbauer Parachute Beetle | black | 12-16 |
| Royal Humpy | red | 12-16 |
| Sculpin Streamers | Green | 8 |
| Bead Headed Pheasant Tails | Black | 14-18 |
| Bead Head Stonefly | coffee | 8-14 |
| Hot Head Euro Pheasant Tail | chartreuse | 12-16 |
| Lighting bugs | Silver | 14-18 |
Adam's Purple Parachute
Tie on this deadly purple parachute dry fly to show trout something unique.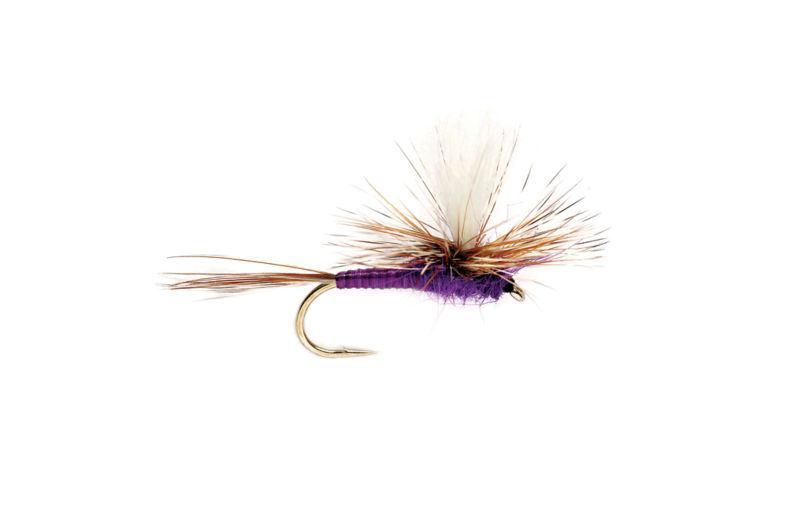 Orvis Seattle's

Recommended Gear
Description:
About Snoqualmie River
The Snoqualmie River is less than 45 minutes from Orvis Seattle and has a minor winter steelhead run between the towns of Carnation and Fall City. Wild searun Coastal Cutthroat and Rainbow Trout can also be found August through November. King salmon enter the river in early September. Coho in October and Chum salmon in November. Pink salmon come in odd numbered years. Winter steelhead enter the river in November but due to the higher flows, the Snoqualmie is not very fly friendly. The mean flow is 2500 cfs Hatches work well in specific times of the year for Searun Cutthroat and Rainbow trout.
Nearest Airport:
Seatac International
Hatches:
Caddis, mayflies
Best Time to Fish:
Mid-Day
Best Stretch:
Fall City to the Snoqualmie Falls
Best Access:
Any boat ramp or bridge in between those two points.