Fishing Outlook & Conditions
Doug Roberts's Tip of the Week
Tricos are hatching so look for pods of risers. Try fishing Hopper, Beetle, and Ant patterns. Look for fish sipping PMD's and Midges. Streamers still working fairly well early morning and late. Nymph ledges and drop offs with PMD and Scud nymph patterns when risers can't be found.
Water Flow Data
5-Day Outlook
as of 9/22/22
Trico and pseudo micro may flies, Hoppers, Ants, beetles.
Techniques & Tips
as of 9/22/22
Fish Hoppers, ants, and Beetle, patters in the riffles, eddies and flats and ant patterns on the banks, eddies and flats. Search the edges and shallow drop offs with Ants, Small trico and pseudo may flies to sippers. Fish nymphs when no surface feeding is visible. Fish streamers early and late.
Local Species
Available Year Round
Browns

Rainbows

cuttbows(hybrid) and some Cutthroats and White Fish
Doug Roberts's

Recommended Fly Patterns

"Must-have" fly fishing patterns in descending order of importance:
| Name: | Colors: | Size(s): |
| --- | --- | --- |
| Chernobyl Ant | Black/brown | Sz 8-14 |
| Smith's Crippled Emerger | Orange | Sz 12-16 |
| Indicator Spinner - Trico | olive | 16-20 |
| Flash Beetle | N/A | 16-20 |
| Caddis, Sailor Ant,Trailing shuck mi | black | 10-14 |
| MFC cricket | black | 8-10 |
| Griffith's Gnat | Grey | 20-24 |
| Schmidt's Junk Yard Dog | olive-tan | 2-8 |
| CDC ant | black | 12-14 |
| Comparadun | Black | 20-24 |
Chernobyl Ant
This foam ant and hopper fly is great as an indicator with any type of nymph hanging below it.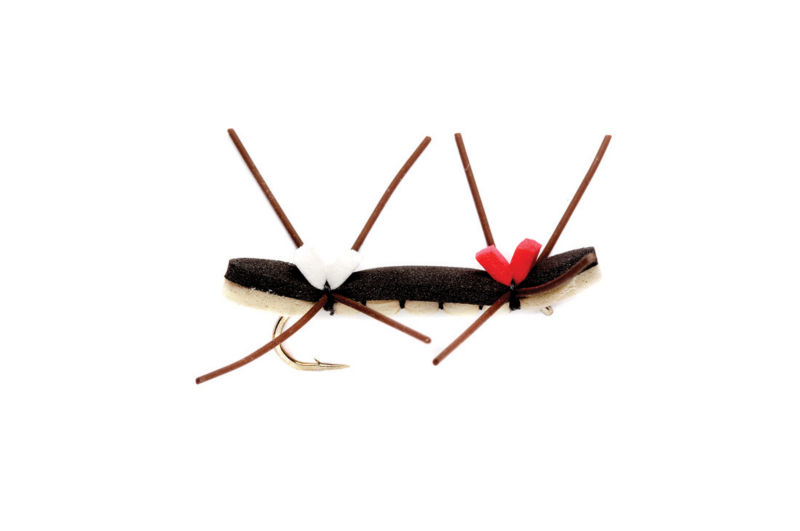 Doug Roberts's

Recommended Gear
Description:
About Green River
Green river fly fishing guide report with current water conditions. Below Flaming Gorge Dam and fly hatch report. In yoLocated in northeast Utah the Green River flows from Flaming Gorge Dam and offers up twenty eight miles of world class tail water fly fishing with trout populations as high as twenty thousand fish per mile. From its head waters high in the Wind River Mountains of southern Wyoming the the Green River flows through sage brush flats in to Flaming Gorge Reservoir near Green river Wyoming. The Green below Flaming Gorge Dam is broken up in to three distinct sections ( A,B,and C section) each with their own personality. The A section of the Green River from the base of the Dam flows 7.6 miles through the spectacular and rugged lower part of Red Canyon and ends at the tiny valley called Little Hole. This section offers the highest percentage of fish per mile and easy access,. The B section of the Green River starts at Little Hole and flowing 9 miles into Browns Park ending at the Indian Crossing boat ramp. The terrain on B changes from rugged canyons to a drier desert park. Camping along the river in this section is permitted and the US Forest Service and the BLM have built many campgrounds for those people wishing to spend the night on the river, and gives us a chance to run some very quality overnight camping excursions. The C section of the Green River starting from the end of B at Indian Crossing winds it's way through a beautiful river valley and then through a scenic canyon called Swallow Canyon. Fishing in this section can be very good at times but is not as consistent as the first two sections. If you are looking for a wild an scenic river with little to no roads or houses in sight that is full of rainbows, browns and cuttbows that average 16 inches then the Green River is the place for you!
Nearest Airport:
Salt Lake City, Vernal or Rock Springs and Dutch John (just a small landing strip)
Hatches:
Trico, Pseudo May flys,Hoppers, ants, beetles,
Best Time to Fish:
9:00am to 3:00 pm
Best Stretch:
"A" or "B" Sections are fishing good. The A section around little hole .
Best Access:
Dam, Little Hole and Indian Crossing are the three best access points.