Fishing Outlook & Conditions
Row Outfitters's Tip of the Week
Try copper johns and dark stoneflies. Swing the slow water! Intruders are on fire right now. Black and blue
Water Flow Data
5-Day Outlook
as of 7/4/22
Storms in and out this week. Head up river as water levels rise. Salmon flies and golden stones Roeoutfitters.com
Techniques & Tips
as of 7/4/22
indicator nymphing best bet for summer steelhead. Swinging flies also
Local Species
Available Year-round: Consult regulations for more information.
Row Outfitters's

Recommended Fly Patterns

"Must-have" fly fishing patterns in descending order of importance:
| Name: | Colors: | Size(s): |
| --- | --- | --- |
| Tunghead Stonefly | Orange, Black, Brown | 4,6 |
| Bead Head Rubber-Legged Orvis CJ | Brown, Black | 8,10,12 |
| Meg A Egg Sucking Leech | Purple/Black | |
| Articulated Leech | Black, purple | 4-6 |
| Egg patterns | Pink, orange | 10-4 |
| Rusty rat | N/A | 8-6 |
| Improved governor | N/A | 8-6 |
Tunghead Stonefly
If you fish stonefly nymphs, you'll want to have several sizes of these bottom bumpers.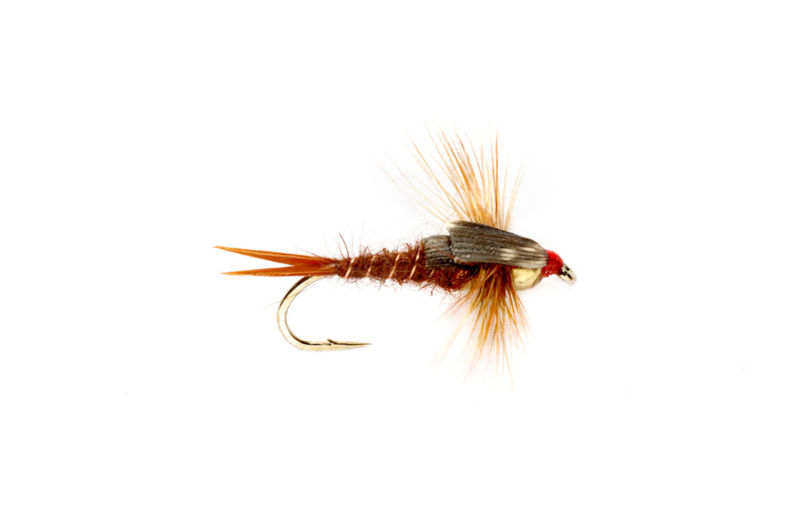 Row Outfitters's

Recommended Gear
Description:
About Rogue River
One of the better known rivers in Southern Oregon, the Rogue River boasts healthy numbers of wild and hatchery steelhead, cutthroat trout and rainbow trout. Chinook Salmon run in both spring and fall. The Rogue River is about 215 miles long from its headwaters near Crater Lake National Park to its mouth which meets the sea in Gold Beach Oregon. The Rogue River has long lazy stretches mixed with heart pounding stretches of up to class IV whitewater. Dry fly fishing for rainbow and cutthroat trout on the Upper stretches is very rewarding. Trout range from 10 – 26 inches. You can fish from the boat and wade in spots. A 4 wt rod works great for casting a variety of top water flies. In general you can catch fish all day long… if you can manage not to pull your fly away when you see these hungry fish come to take your fly. Steelhead fishing on the Rogue River is pretty consistent year-round. Summer steelhead range from 3 to 8 pounds and an occasional fish weighing up to 12 pounds. Skating, nymphing and swinging flies are all common methods. Winter Steelhead are generally bigger than the Summer Steelhead. Water conditions and weather can make it difficult to catch Winter Steelhead. Steelhead are of course known as the fish of a thousand casts. Don't be discouraged. Steelhead are well worth the effort. Great fighters and great fun once they take your fly. Spring Chinook brings lots of people from all over the state and country. These fish are delicious (especially smoked)! The Rogue River also holds Coho Salmon, although they are usually protected (check local regulations). The Fall Chinook run is usually during the late summer months and during the "fly only season" on the river. Catching a Salmon on a fly rod is a great way to spend a day! The Rogue River is heavily regulated and one should make sure to check local regulations before heading out.
Nearest Airport:
Rogue Valley International-Medford Airport (MFR)
Hatches:
Caddis, egg patterns , black and brown stone flies. Nymping best bet Copper Johns in red and chartreuse
Best Time to Fish:
All day
Best Stretch:
Below Lost Creek Dam to Gold Hill.
Best Access:
Cole Rivers Hatchery, Casey State Park, Rouge Elk Campground, Shady Cove Bridge, Dodge Bridge, Touvelle State Park, Gold Ray Road.