Fishing Outlook & Conditions
Deep Canyon Outfitters's Tip of the Week
The Lower D is fishing extremely well. The fish are on the bite, try indicator fishing with flashy jig style flies. Swinging flies for trout and steelhead is good idea right now.
Water Flow Data
5-Day Outlook
as of 9/21/22
Weather is cooling off this week. This should make for a pretty good bite.
Techniques & Tips
as of 9/21/22
Nymphing for trout has been our most consistent tactic recently. We like to utilize both dry droppers and double nypmh rigs. Bring split shot to help get down fast in the deepest holes.
Local Species
Available Some closures. Check local regulations.
Rainbow trout and Steelhead
Deep Canyon Outfitters's

Recommended Fly Patterns

"Must-have" fly fishing patterns in descending order of importance:
| Name: | Colors: | Size(s): |
| --- | --- | --- |
| Bead Head Soft Hackle Hare's Ear Nymph | natural | 14-18 |
| Bead Head Brassie™ | black, olive | 10-16 |
| Griffin's Euro Candy Caddis | Olive | 18-22 |
| Blue Wing Olive Parachute | Copper/Red | 14-18 |
| x-caddis | Olive | 16-18 |
| elk hair caddis | Olive/Tan | 16-18 |
| Sparkle Dun | Black/Purple/Red | 18-22 |
| CDC Mayfly Emerger | Brown | 12-16 |
| Zirdle Bug | Olive | 8 |
| sparkle pupa | olive/tan | 16-18 |
Bead Head Soft Hackle Hare's Ear Nymph
Double the effectiveness of your nymph fishing by using a bead head soft hackle pattern.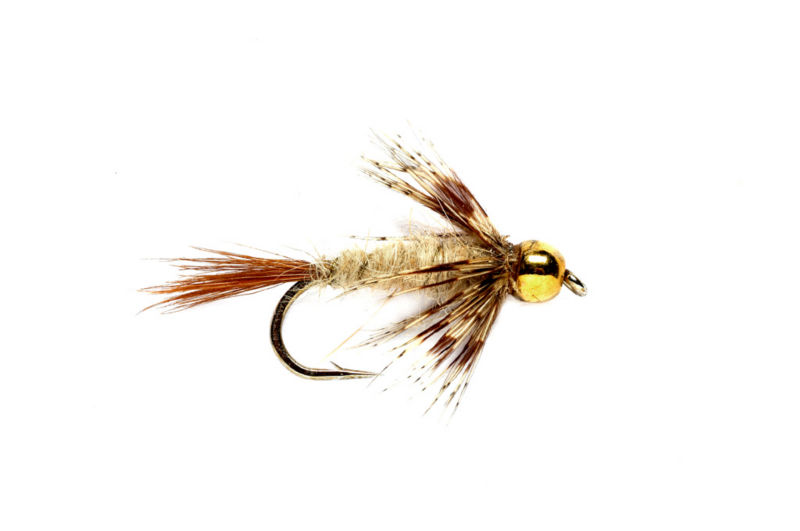 Deep Canyon Outfitters's

Recommended Gear
Description:
About Deschutes River
Healthy populations of year-round rainbow trout and growing returns of summer steelhead between July and November inhabit the Lower Deschutes River. This spectacular river rambles through an immense canyon, dropping sharply in spots creating exciting whitewater opportunities. Besides great fishing, the Deschutes is home for wildlife, including: Bald eagles, Osprey, Blue Heron, Big Horn sheep, Mule deer, playful Otters and of course strong rainbow trout and summer steelhead! The Lower Deschutes' native fish grow thick shouldered and extremely powerful for their size. Averaging 14-16 inches, and topping out around 21 inches. Open to fishing all year, the Lower Deschutes is home to many epic insect hatches. May marks the hatch of a famous stonefly called: Pteranarcys (Giant Stonefly or Salmonfly). This hatch lasts through the first weeks of June. These huge bugs are the ultimate meal for the trout, and anglers fishing this hatch will be rewarded with the largest, hottest rainbow trout of the season. Like all rivers, the Deschutes has ever-changing hatches, creating great dry fly opportunities through out the year. The Deschutes River is equally famous for it's Summer Steelhead run. These anadromous fish begin migrating from the Pacific in July. As the weather cools in September, the steelhead respond. Steelhead this time of the season occasionally rise to surface presentations, offering anglers the chance at hooking one of these fantastic fish on a dry fly. October is the best month to catch a steelhead... while the weather is pleasant, and fish can be caught in the entire river. If you enjoy fly fishing for feisty rainbow trout and powerful steelhead, the Deschutes River is an experience you can't afford to miss.
Nearest Airport:
Roberts Field Airport (RDM), Redmond, Oregon
Hatches:
Caddis, BWOs, Green Drake, Midge,
Best Time to Fish:
ALL DAY
Best Stretch:
entire system
Best Access:
Heritage Flats, Maupin, Locked Gate, Mack's Canyon, South Junction, Trout Creek, town of Warm Spings