Fishing Outlook & Conditions
Orvis Reno's Tip of the Week
Winter is finally here as temperatures next week look to get into the low 40s and high 30s. Flows on the river are still holding strong with 450 CFS through the downtown Reno gauge. As water temperatures go below 45 degrees and dip into the 30s fish are going to start getting into some deep and slower water. Small and dark nymphs are going to be the most productive flies throughout winter. Hatches of midges and BWOs throughout the day can also make for some productive dry fly and emerger fishing. Bigger flies like crayfish and streamers have also continued to produce fish. Egg patterns will continue to work for a few more weeks as the browns finish up spawning.
Water Flow Data
5-Day Outlook
as of 11/26/23
The weather is going to really cool down over the next week as temperatures are going to fall into the low 40s and high 30s. Water temperatures will continue to get colder as well. Look to find fish moving into some slower water over the next 7 days. The fishing will be best from noon to late afternoon as the water temperatures warm up throughout the day.
Techniques & Tips
as of 11/26/23
Indicator fishing will be great this time of the year as fish move into slower and deeper water. Stripping flies will be productive as well. Dry fly fishing will be good too as mayflies hatch throughout the day but it will not be as consistent as it was during summer. ESN is also a great method for the colder months as it allows you to get flies down into deeper runs.
Local Species
Available Year Round
Browns

Rainbows

Cutthroat

Cutbows

Mountain Whitefish

Carp
Orvis Reno's

Recommended Fly Patterns

"Must-have" fly fishing patterns in descending order of importance:
| Name: | Colors: | Size(s): |
| --- | --- | --- |
| Tungsten Nemec Stone Nymph | natural | 8-12 |
| RS2 | natural | 14-16 |
| Micro Egg | Natural | 16-20 |
| Tunghead Pheasant Tail | olive, brown, black | 14-16 |
| Sculpzilla | white,olive,black | 4 |
| Spanish Bullet | olive | 14-18 |
| Bead Head Brassie™ | UV Brown | 14-16 |
| Tunghead Quill Jig | Natural | 12-16 |
| Mountain Lobster | olive, orange | 12 |
| Balanced Sculpin | olive, white | 6 |
Tungsten Nemec Stone Nymph
Reach the deepest lies with this tungsten stonefly nymph.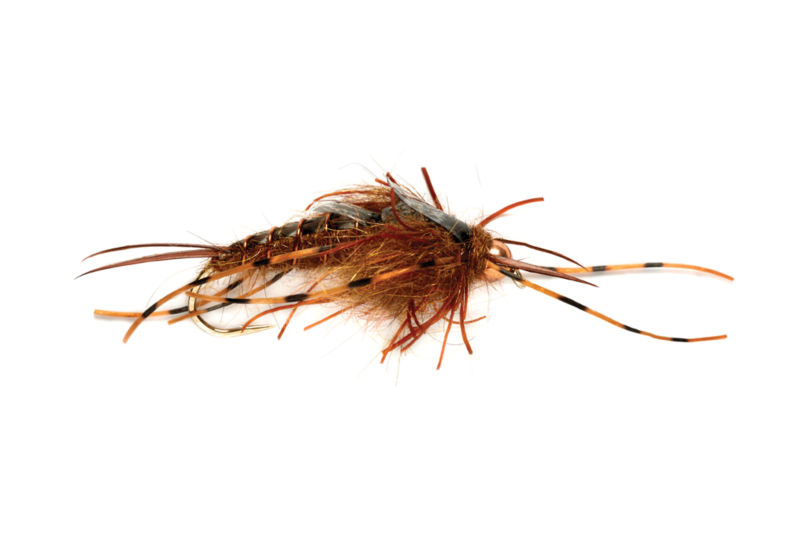 Orvis Reno's

Recommended Gear
Description:
About Truckee River
The Truckee River originates in the pristine turquoise waters of beautiful Lake Tahoe. Flowing north to north-east it flows 115 miles through the town of Truckee and right through downtown Reno dropping around 2,430 feet before it dumps into Pyramid Lake. The Nevada side of the Truckee starts out similar to the California side with pocket water and lots of riffles. As it works it's way east of Reno the water slows dramatically and the pockets become long deep runs with scattered rifles. Many of the bigger fish come from the Nevada side of the Truckee with good numbers of Browns pushing six plus pounds. The river is also home to Rainbows, Cutbows, Cutthroat, Mountain Whitefish, and Carp.
Nearest Airport:
Reno, NV
Hatches:
BWO Midges Crayfish Sculpin Other baitfish patterns
Best Time to Fish:
all day!
Best Stretch:
From Downtown to Stateline on the Nevada side, and stateline to Truckee.
Best Access:
Best access points on the river are areas west and east of Reno including Mayberry Park, Crystal Peak Park, Mogul, Verdi, and Lockwood.