Fishing Outlook & Conditions
Jim Mitchell's Tip of the Week
The West Fork is now at winter levels. Floating is not recommended in any section. This is a good time to wade. Nymphing is the way to go Rubber legs and Perdigons size 18/14. Small Adams, purple haze, or any midge imitation in the afternoon. Dead drifting small streamers with a dropper.
Water Flow Data
5-Day Outlook
as of 1/17/22
Start later to let it warm up. The shore ice is building up and access is getting hard to find. Slush ice is floating in the open sections.
Techniques & Tips
as of 1/17/22
Two nymphs or a small streamer with a dropper dead drifted. Small mayflies and midges dry flies in the afternoon.
Local Species
Available Year Round Below Painted Rocks Dam (catch and release Dec 1 - 3rd Saturday in May)
Cutthroat

Rainbow

Brown

Brook & Bull Trout Mountain White Fish
Jim Mitchell's

Recommended Fly Patterns

"Must-have" fly fishing patterns in descending order of importance:
| Name: | Colors: | Size(s): |
| --- | --- | --- |
| Tunghead Hot Spot Pheasant Tail Jig | Yellow, Orange | 12 |
| Bead Head Prince | Peacock | 10/14 |
| Adams Parachute Dry Fly | Gray | 10/18 |
| Adam's Purple Parachute | Purple | 10/18 |
| Chubby | Golden | 8/12 |
| Elk Wing Caddis | Tan | 14-16 |
| Double Bunny | Olive/White | 6/2 |
| Quigley Cripple | N/A | |
Tunghead Hot Spot Pheasant Tail Jig
A barbless jig-style hook makes this pattern ride hook up, providing a snag-free drift.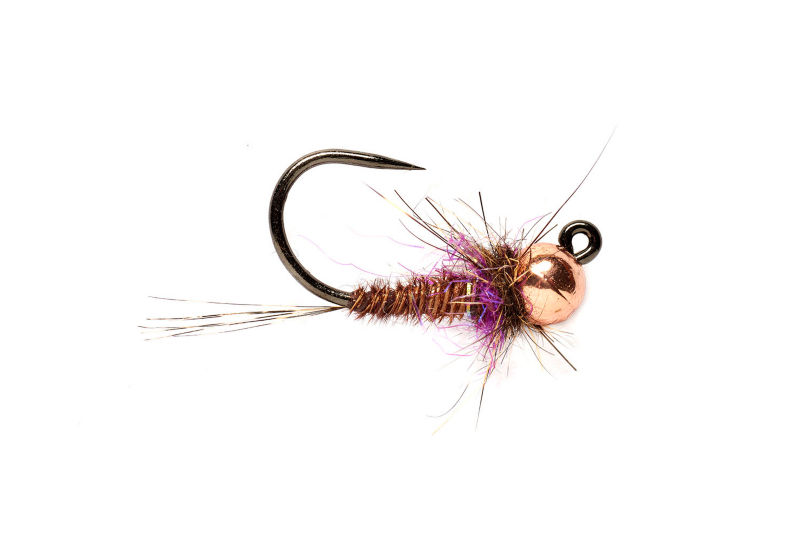 Jim Mitchell's

Recommended Gear
Description:
About West Fork Bitterroot River
The West Fork of the Bitterroot River originates along the south west border of Montana. Flowing out of the Bitterroot mountain range it runs into Painted Rocks reservoir, a man-made lake created by Painted Rocks Dam. Below the dam the river flows for an additional fifteen miles to the confluence with the East Fork, creating the Bitterroot River. The West Fork above the dam is small and well suited for walk and wade fishing this mountain stream has good numbers of smaller wild trout. The fish here rise readily to almost any dry fly presented to them. Below Painted Rocks Reservoir, the West Fork consists of pocket water, riffles, runs and rock gardens. The river below the dam remains clear during spring run-off compared to the rest of the system until the water comes over the spillway. Fed by the reservoir, the West Fork maintains cool flows well into the fall. Feeding on prolific Salmon fly, Golden stone fly and spruce moth hatches the West Fork is home to sizable Wild West slope Cutthroat, Rainbow, Brown, Brook trout and Mountain whitefish. The West Fork, along with many of the other tributaries in the Bitterroot Valley hold bull trout, a federally protected fish that must be released immediately. Learn how to identify bull trout
Nearest Airport:
Missoula, MT (MSO)
Hatches:
Midges
Best Time to Fish:
Late morning to Afternoon
Best Stretch:
Non for floating all for wading.
Best Access:
All