Fishing Outlook & Conditions
CrossCurrents Fly Shop's Tip of the Week
If floating, rig up 3 rods - Nymph Rod (primary fish catching tool), Streamer Rod (big streamers for big fish right now) and a Dry Fly Rod (Midges are thick and Baetis are now here in the afternoons and noses have been showing up 1pm and later)
Water Flow Data
5-Day Outlook
as of 4/28/22
Spring like weather for sure -nice mid week but back to a good chance of snow by the weekend! Don't think about fishing the MO without your layer piece and a great rain jacket! (Oh, yeah, we have the PRO Hoodies and Rain Jackets - how convenient for you!)
Techniques & Tips
as of 4/28/22
A couple of nymphs (Worm, Firebead Sowbug, Caviar Scuds, Tailwater Sowbug with a Baetis nymph behind) will keep you busy battling fish. They are really starting to key in on that Baetis-type nymph! We also love swinging the Trout Spey set ups at this time of year -no weeds to contend with and the fish are becoming very active! Looks for noses in the afternoon!
Local Species
Available Spring
Rainbow Trout

Brown Trout

and Whitefish
CrossCurrents Fly Shop's

Recommended Fly Patterns

"Must-have" fly fishing patterns in descending order of importance:
| Name: | Colors: | Size(s): |
| --- | --- | --- |
| TH Zebra Midge | Black/Silver | #16-18 |
| Bead Head Woolly Bugger Streamer | Olive/Black | #6-10 |
| Vernille San Juan Worm | red | #12 |
| Lightning Bug | Purple or Silver | #16-18 |
| Thin Mint Bugger | N/A | #6-#8 |
| Frenchie | N/A | #14-18 |
| Tactical Pheasant Tail Nymph | N/A | #16-#18 |
| Tungsten Twisted Tactical May | N/A | #18 |
| Sparkle Minnow | Sculpin, Black, Silver | #4-#6 |
| Caviar Scud | pink, orange | #12-#16 |
TH Zebra Midge
A handy midge fly pattern for stillwater.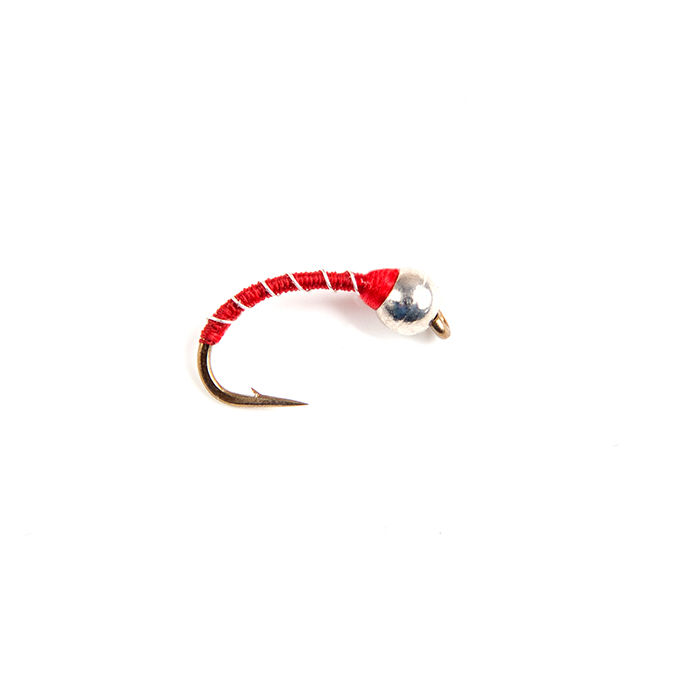 CrossCurrents Fly Shop's

Recommended Gear
Description:
About Missouri River
The Missouri River is one of the largest and most easily accessed rivers in Montana. The mighty MO is certainly a trout factory! Three reservoirs in a row make this tailwater fishery have a constant water flow and stable temperatures from day to day. Amazingly fertile, with prolific hatches of mayflies, caddis, and midges, the Missouri is a 365 day river. You'll see fish rising just about every day of the year. Take a float trip down the Missouri and you'll know why it made such a powerful impression on Lewis and Clark during their great expedition. During the summer, caddis and mayfly hatches are so prolific that it looks as though there is a mini blizzard over the river. This river is known for its excellent dry fly fishing. But it's also amazing when fished with emergers. or small bead-heads as a dropper behind a dry fly. The MO fishes fantastically in the shoulder seasons of Spring and Fall with Baetis and Midges for dries and big, ugly streamers! That is when some very big fish are caught! The Missouri throws itself into the heated debate of "Row vs. Wade" because it is so perfectly suited to angle from both a drift boat (or other water craft) as well as wade fishing on foot. With an adult trout population (Rainbows and Browns over 10") over 6,000 per mile and an average size of 16"-18", it's not too hard to figure out why the Missouri ranks up there with many people's favorite places to fish!
Nearest Airport:
Helena, Great Falls
Hatches:
lots of Midges, very few Skwalas (IYKYK), very few Baetis -but close!
Best Time to Fish:
late morn to afternoon
Best Stretch:
Dam to Craig, Craig to Mid
Best Access:
Holter Dam, Wolf Creek Bridge, Craig, Stickney, Mid-Canon, Mtn Palace and walk-ins off the Recreation Road.