Fishing Outlook & Conditions
Jim Mitchell's Tip of the Week
Hoppers and droppers. PT, and Perdigons size 18/14. Chubbies with a dropper, Caddis, Small Adams, purple haze. Streamers are working pound the bank.
Water Flow Data
5-Day Outlook
as of 9/27/22
Hopper fishing is improving
Techniques & Tips
as of 9/27/22
Big dry with a dropper. Two nymphs or a streamer with a dropper. Small mayflies, Caddis, Yellow Sallys drys and droppers .
Local Species
Available Year Round Below Star Falls(catch and release Dec 1 - 3rd Saturday in May)
Cutthroat

Rainbow

Brown

Brook & Bull Trout

Mountain White Fish
Jim Mitchell's

Recommended Fly Patterns

"Must-have" fly fishing patterns in descending order of importance:
| Name: | Colors: | Size(s): |
| --- | --- | --- |
| Tunghead Hot Spot Pheasant Tail Jig | Yellow/Orange | 14-18 |
| Bead Head Prince | Peacock | 12-14 |
| Adams | Purple | 12/20 |
| Adam's Purple Parachute | Tan | 14/16 |
| La Fontaine Sparkle Pupa | Tan Brn | 14/16 |
| Double Bunny | Olive/White | 6/2 |
| Quigley Cripple | PT | 16,14,12 |
Tunghead Hot Spot Pheasant Tail Jig
A barbless jig-style hook makes this pattern ride hook up, providing a snag-free drift.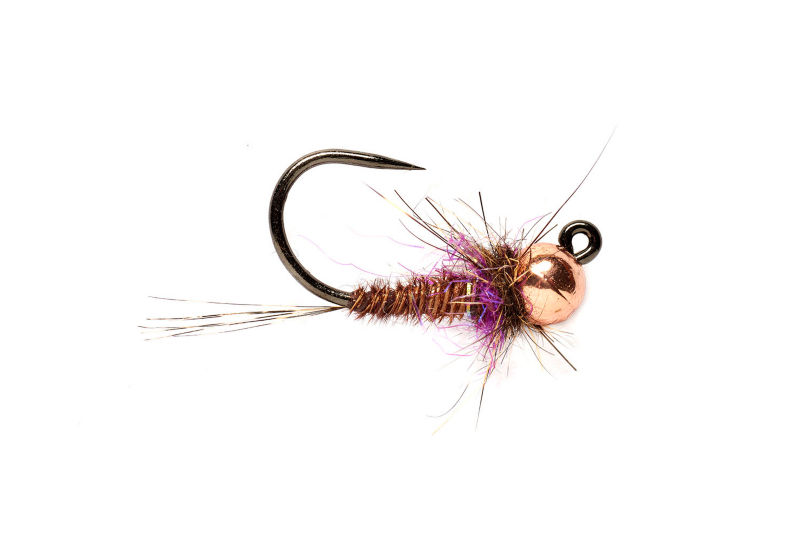 Jim Mitchell's

Recommended Gear
Description:
About East Fork Bitterroot River
The East Fork of the Bitterroot is one of the most beautiful and easily accessed streams in southwestern Montana. It begins on the Continental Divide deep in the Bitterroot National Forest. This freestone is made up of riffles, runs, boulders, and deep pools that hold 8- to 18-inch trout. The East Fork of the Bitterroot River has great fly fishing. As fishing pressure is generally quite low, the trout rise readily to dry flies. The river is quite narrow for most of its length; casting to most spots of the river is quite easy, making it an excellent choice for Tenkara fly fishing. With fast currents and large rocks in the river wading can be a challenge when the flows are up. When the flows are low the water is easy to wade, but most of it can be reached from the banks. Approach carefully: The water is clear, and the fish spook easily. For most of the year the flows on the East Fork of the Bitterroot are too low for floating.
Nearest Airport:
Missoula, MT (MSO)
Hatches:
Hecuba, Trico, BWO, Hoppers, Ants, Beatles, Caddis, Yellow Sally's, PMD, Midges
Best Time to Fish:
When you can go
Best Stretch:
All
Best Access:
All