Fishing Outlook & Conditions
Blackfoot River Outfitters's Tip of the Week
Can't see that #20 Trico or BWO spinner? Try using a sighter fly as your first bug in a double-dry rig. Putting a larger parachute style fly like a purple haze in tandem with more difficult to see flies, like small spinners and cripples, will make life much easier. You can spot the hi-vis fly and if you see a rise within 2 feet of it set the hook. We like to run a 9' 4X leader to the first fly followed by 18-24" of 5X to the smaller fly.
Water Flow Data
5-Day Outlook
as of 9/29/23
As water temps drop the fishing on the Blackfoot has been heating up. We have some good streamer weather in the forecast with colder temps, clouds and rain expected. Be sure to bring your rain jacket!
Techniques & Tips
as of 9/29/23
There is not much happening for dries on the Blackfoot right now. A few fish have been caught on small chubbies or october caddis patterns, but the subsurface fishing has been most productive. Nymphing San Juans and rubber legs/TJs has been productive. Small tungsten jigs like Frenchies, Duracells, PTs, and Bullets are catching a lot of fish. The streamer fishing has slowly been getting better and it could be on fire this weekend. Sparkle minnows and Precious Metals have been good along with Envys, Dungeons and Lil' Kims. White has been our top color, but keep olive, yellow and black in the rotation if you're not getting any follows.
Local Species
Available All Year; Tributaries closed December 1-third week of May.
Trout: rainbows

West Slope cutthroats

browns

bulls and white fish.
Blackfoot River Outfitters's

Recommended Fly Patterns

"Must-have" fly fishing patterns in descending order of importance:
| Name: | Colors: | Size(s): |
| --- | --- | --- |
| Tunghead Pheasant Tail Jig | N/A | #14-18 |
| Bead Head Prince | N/A | #10-16 |
| Bead Head Rubber-Legged Orvis CJ | N/A | #08-14 |
| Quick Sight Foam Ant | N/A | #14-18 |
| Frenchie | N/A | #12-18 |
| Jig Sparkle Minnow | N/A | #6 |
| Sparkle Dun | N/A | #18-20 |
| Stimulator | N/A | #10-12 |
| Spanish Bullet | N/A | #14-18 |
| TJ Hooker | N/A | #08-12 |
Tunghead Pheasant Tail Jig
You'll want this proven jig fly pattern on hand at all times.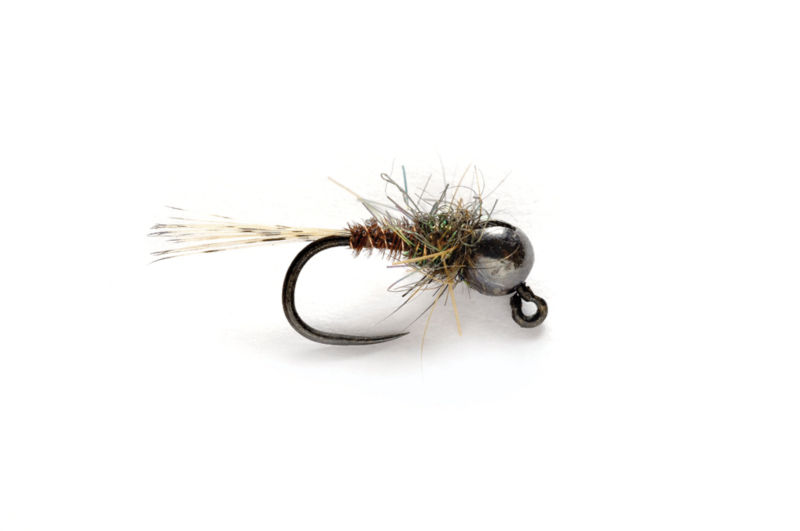 Blackfoot River Outfitters's

Recommended Gear
Description:
About Blackfoot River
Bottomless emerald pools, boulder strewn pocket water and diamond chop riffles all shaded by moss covered cliffs and towering ponderosa pines combine to make this the epitome of Montana fly-fishing. Thanks to a diligent concerted effort between neighboring landowners, government agencies, conservation organizations and concerned anglers, restored spawning tributaries are continually enhancing trout populations – especially those native to the river. Combining such exceptional juvenile trout recruitment with restrictive creel limits results in a Blackfoot teeming with fish like biceps. Nymphing here is just plain deadly, especially from a boat. We aren't talking about spending the day untangling two pinhead size flies spun tight with 6X tippet around a stick of soft lead and a Don King indicator – this is no tailwater. 4X is as light as we go with 1X common place and bugs often the size of small rodents. Then imagine the same terminal tackle for dries! No stress, just fun. In spite of its familiarity as the inspiration for the big screen hit, "A River Runs Through It," compared to other world class destinations fishing pressure remains relatively light.
Nearest Airport:
Missoula International Airport (MSO)
Hatches:
Tricos. October caddis.
Best Time to Fish:
Morning through evening.
Best Stretch:
If Monture Creek blows out you want to stay above Scotty Brown Bridge. Otherwise, the entire river is fishing well.
Best Access:
Multilple access points all along river.