Fishing Outlook & Conditions
WorldCast Anglers's Tip of the Week
Daylight Savings has changed over and Winter has settled in. The days continue to shorten and we are in winter for the long haul. Do not be afraid to get out but the days might be better used otherways too.
Water Flow Data
5-Day Outlook
as of 11/22/22
Bundle up and look out for the brown trout redds!
Techniques & Tips
as of 11/22/22
Look for fish rising to midges or BWOs, don't be afraid to throw streamers but nymphing seems to be the best. Full WorldCast Anglers Fishing Reports can be viewed at http://bit.ly/Jacksonholefishingreport
Local Species
Available Year Round (Prime: May 15 - November 1)
Cutthroat

Rainbow

and Brown trout
WorldCast Anglers's

Recommended Fly Patterns

"Must-have" fly fishing patterns in descending order of importance:
| Name: | Colors: | Size(s): |
| --- | --- | --- |
| Adam's Purple Parachute | N/A | 12-16 |
| Indicator Parachute - Pheasant Tail | N/A | 12-16 |
| TH Duracell Jig | Brown | 12-18 |
| Fly Formerly Known As Prince | Red | 18-22 |
| Pat's Rubberlegs | Brown/Black/Orange | 4-12 |
| Quill Body Jigs | Purple/Orange/Black/ | 10-16 |
| Pino BWO Wine | N/A | 16-20 |
| Bead Head Rubber-Legged Orvis CJ | Orange | 12-18 |
| Wooly Bugger | Black/Olive | 6-12 |
| Dungeon!!! | Black, White and Olive | 4 |
Adam's Purple Parachute
Tie on this deadly purple parachute dry fly to show trout something unique.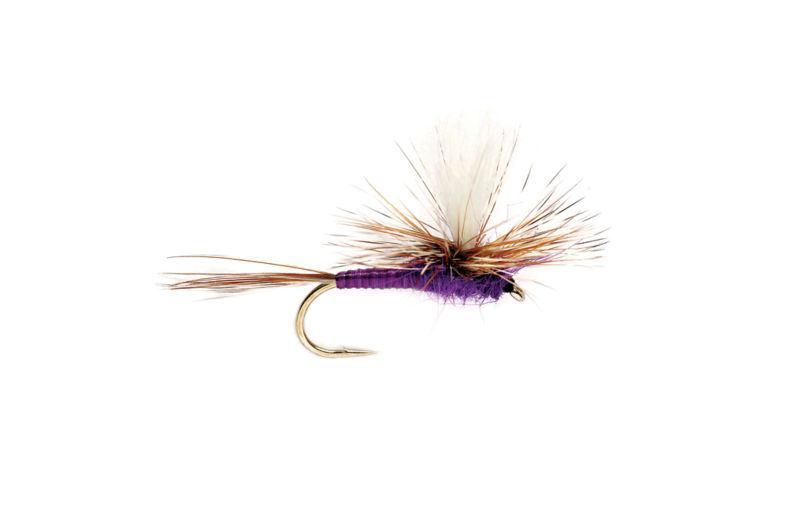 WorldCast Anglers's

Recommended Gear
Description:
About South Fork of the Snake River
Rated as one of the top cutthroat streams in the West, the South Fork is a tail-water fishery that flows out of Palisades Dam on the border of Wyoming and Idaho. The diversity of hatches, both aquatic and terrestrial, gives the South Fork a reputation for some of the best dry fly fishing in the world. Wild populations of native Yellowstone Cutthroat and Snake River Fine Spotted Cutthroat provide scrappy dry fly action year-round. With a healthy population of browns and rainbows ranging from 15-25 inches, the South Fork is a fly fisher's dream. Fishing starts with a bang in July during the highly sought after salmon fly hatch. Large 2-3 inch stone flies creep out of the depths and hatch by the thousands along the rivers edge, bringing fish of all sizes to the surface. Anglers are dumbfounded by the numbers of fish brought to the boat during this four week period. Following this hatch is a melting pot of diverse dry fly hatches that continue to change through the end of October as well as uncountable numbers of hoppers that tempt fate by traveling along the rivers banks. The South Fork of the Snake is a trip any angler should try to take when visiting the Jackson Hole area.
Nearest Airport:
Jackson Hole, WY (45 mins.) / Idaho Falls, ID (1.5 hours)/ SLC, UT (4 hours)
Hatches:
Baetis and Midges from now until April
Best Time to Fish:
Middle of the day when the sun is at it's highest.
Best Stretch:
The best winter access is at Palisades Dam.
Best Access:
Dam, Husky, Irwin, Spring Creek Bridge, Conant, Cottonwood, Wolf, Byington and Lorenzo.