Fishing Outlook & Conditions
Montrose Anglers's Tip of the Week
Stealthy and use weight to get your flies in the zone. Leading with a micro leech pattern is a good bet followed by a small, #22-24 midge pattern, red or black is putting fish in the net. Using 5x and 6x fluorocarbon will allow you to be stealthy and present your flies naturally. Sight fishing for bigger fish has been effective although, the fish are selectively feeding. You have to be stealthy and patient!
Water Flow Data
5-Day Outlook
as of 6/30/22
Fishing has been picking up, and fish are being put in the net. Looks to be a nice week weather wise, but always we aware as it can change quickly in the spring.
Techniques & Tips
as of 6/30/22
Nymphing, make sure you get it down, add a slipt shot.
Local Species
Available Year - round
Rainbow

Brown

Snake River Cutthroat
Montrose Anglers's

Recommended Fly Patterns

"Must-have" fly fishing patterns in descending order of importance:
| Name: | Colors: | Size(s): |
| --- | --- | --- |
| TH Zebra Midge | Black or Olive | #22-24 |
| Rojo Midge | Red | #22-24 |
| Hairwing Western Green Drake | N/A | #18-24 |
| Bead Head Barr Emerger | black | #18-24 |
| Demon Midge | Red | #22-26 |
| Black Beauty | Black | #20-24 |
| Tungsten Jig Bugger | White | #12-14 |
| Double Bunny | Black | #08-14 |
| Frenchie | Brown | #16-20 |
| Sidewinder emerger | Olive | #22-26 |
TH Zebra Midge
A handy midge fly pattern for stillwater.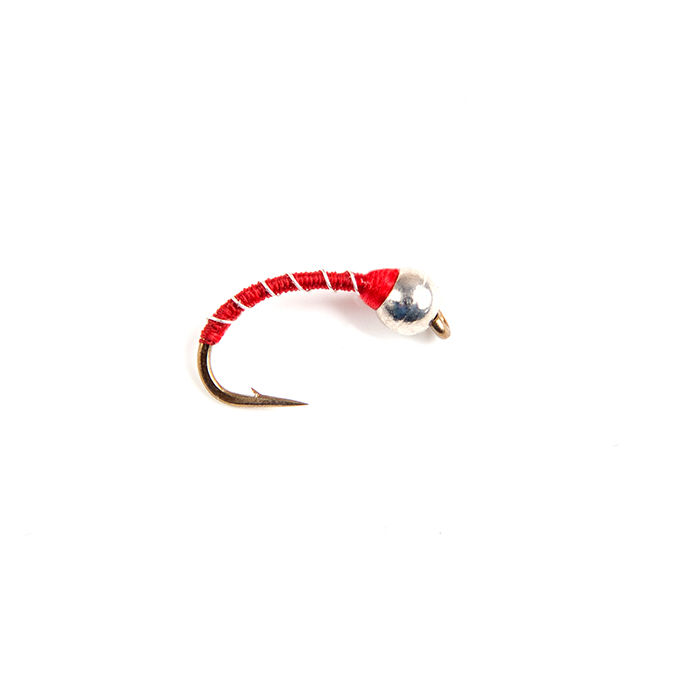 Montrose Anglers's

Recommended Gear
Description:
About Uncompahgre River
Ridgway State Park is located four miles north of Ridgway and 26 miles south of Montrose, Colorado. As late as mid-July, the north face of the San Juan Mountains still holds snow and as it melts, it eventually flows into Lake Como north of Silverton, at 12,221 feet in southwestern Colorado. From here, the Uncompahgre is born and runs north 75 miles to enter the Gunnison River in Delta. The Park holds many fishing and recreational opportunities, such as hiking, biking, boating, and camping; not to mention the bounty of scenic beauty that rivals any destination in the Colorado Rockies. Ridgway Reservoir is stocked with Rainbow Trout and packed with Wild Brown and Cutthroat Trout, as well as Kokanee Salmon deeper in the lake. The reservoir is approximately 1,000 acres and there is a 1.5 mile-long section of river above and below the reservoir. Seven dollars gives you access to this recreational paradise but the real fishing gem is the tail waters below the reservoir called Pa-co-chu-puk. The dam release regulates flow and temperature, creating an excellent tail water fishery with trophy size fish. Pa-co-chu-puk, which translates to mean Cow Creek in the UTE Indian language, holds Rainbows, large Browns, and Cutthroats that take imitations of the various insect and terrestrial populations that live in and around this stretch of fly fishing heaven. This creek enters the Uncompahgre River at the lower end of the Paco-chu-pak section of tail water. The entrance to Paco-chu-puk is just below the reservoir off Hwy. 550 and there is plenty of parking. For further information on this area contact us at (970) 209-0408 or visit our website at MontroseAnglers.com
Nearest Airport:
Montrose Airport
Hatches:
Midges (#20-26), Baetis/BWO imitations (#20 and smaller), Caddis, Drakes, Cahills
Best Time to Fish:
Mid morning to late afternoon
Best Stretch:
The 1.5 miles of tailwater below Ridgeway Reservoir (Pa-co-chu-puk).
Best Access:
The Pa-co-chu-puk turn, off of hwy 550.