Fishing Outlook & Conditions
Willowfly Anglers's Tip of the Week
The Taylor River below Taylor Park reservoir , aka the C&R, is currently holding steady flows of 450 cfs. Fishing at the C&R has overall been very good, with mysis, eggs, baetis, stones, and midges all in play. There are fish spawning so please be aware of redds and avoid fishing and wading in the shallow gravel areas. If you are unsure what a redd is, do a quick google image search before heading to the C&R. The redds will be the lightly colored gravel areas, mostly found around the USGS cable upstream of the bridge. Please resist the temptation to cast at rainbows sitting on redds. The future of this amazing fishery depends on us letting spawning fish do their thing in peace! Top flies at the C&R have been midge pupas, midge adults, juju baetis, and various mysis patterns. As always use your polarized sunglasses to find actively feeding fish before just blind casting. a stealthy approach and long leader are imperative to success at the C&R. Crowds lately have been increasing with the nicer weather. At this busy tailwater remember to be courteous of your fellow anglers! We're all out there to have fun, so pass along some kindness on the water. Downstream of the C&R in Taylor Canyon, fish are starting to spread out into pockets and bankside eddies with the increased flows. Midges, stonefly nymphs, worm patterns, and attractor jig nymphs have all been effective lately. Dry fly activity is sporadic at best still, but keep an eye out for suspended or rising fish in the warmer afternoons. Streamer fishing has been pretty good with a slow retrieve, targeting deeper pockets and pools.
Water Flow Data
5-Day Outlook
as of 6/6/23
Nice sunny weather on tap with some clouds in the afternoons. Keep a rain jacket and a streamer rod handy!
Techniques & Tips
as of 6/6/23
Nymphing, Streamers, Dry Flies.
Local Species
Available Year Round
Trout
Willowfly Anglers's

Recommended Fly Patterns

"Must-have" fly fishing patterns in descending order of importance:
| Name: | Colors: | Size(s): |
| --- | --- | --- |
| TH Duracell Jig | Natural | 16 |
| Quasimodo Pheasant Tail | Natural | 16 |
| Bead Head Barr Emerger | Grey | 16 |
| Micro Egg | Tan | 14 |
| Miller's Candy Cane Shrimp | White | 18-22 |
| Mole Fly | Brown | 18-24 |
| Adams | Dun | 16 |
| Tunghead Pheasant Tail Jig | Natural | 16 |
| Miller's D-Midge | Grey | 18-22 |
| Black Beauty | Black | 20-22 |
TH Duracell Jig
Hook fish instead of rocks with this tungsten nymph jig.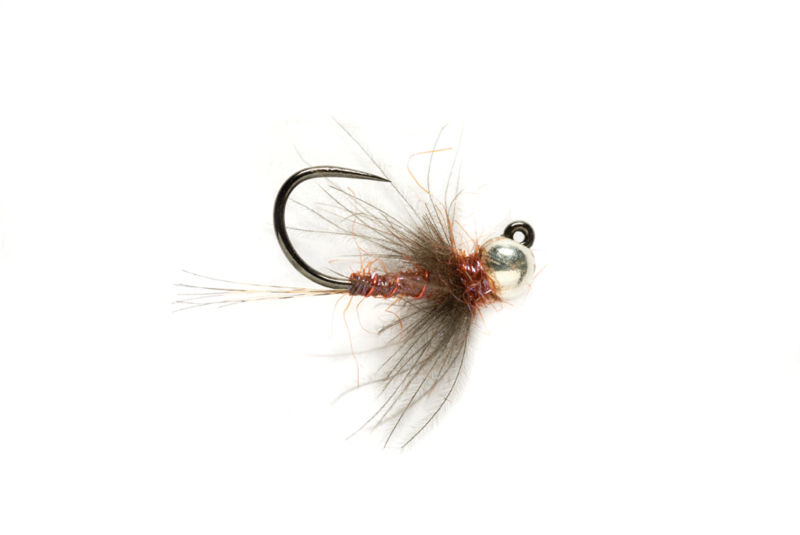 Willowfly Anglers's

Recommended Gear
Description:
About Taylor River
The Taylor River is fed from high up in the Colorado Rockies and drains into Taylor Reservoir at about 9,300 feet. The tailwater below the dam flows down through Taylor Canyon some 20 miles before it joins the East River to form the Gunnison River at Almont. The Taylor is a medium-sized river which contains deep pools and pocket water, and plenty of riffles and runs. The bottom releases from Taylor Reservoir provide constant and predictable flows, and consistent hatches throughout the season. The Taylor River contains a very high density of trout, including wild browns, rainbows, and cutthroat. Some rainbow trout are also stocked during the season. The upper section of the Taylor River just below the dam is designated catch-and-release (C&R) water. This is trophy trout water with a lot of fish in the 8 to 12-pound range, along with some much larger fish. These big wild trout enjoy a constant food source which includes a steady diet of mysis shrimp and midges. The C&R section can be very challenging and requires some technical angling skills. This section of the Taylor River can be fished year round. There is plenty of public access throughout Taylor Canyon. It can be a difficult river to wade, so many anglers use a wading staff for added safety. Chest waders are recommended. A 9-foot 5-weight fly rod is a good all purpose choice for the Taylor River. The peak season is from mid June to mid September, and fall fishing in Taylor Canyon can be spectacular.
Nearest Airport:
Gunnison-Crested Butte Airport
Hatches:
BWO, Midges
Best Time to Fish:
10am - 6pm
Best Stretch:
Taylor Canyon
Best Access:
Taylor Canyon