Fishing Outlook & Conditions
Willowfly Anglers's Tip of the Week
The Taylor River below Taylor Park reservoir , aka the C&R, is fishing well despite being very busy lately. Flows came down recently from 250 cfs to 225 cfs. We should see flows drop again between now and Aug 3rd. Hatches at the C&R have been sporadic and mainly consisting of BWO's and Midges, although there are definitely some stoneflies active as well. PMD's and Green Drakes should start hatching at the C&R within the next week or 2, resulting in excellent dry fly opportunities. Top Patterns at the C&R: Hairwing Dun 12, Pheasant Tail 16-22, RS2 18-22, Juju Baetis 18-22, D-Midge Red 18-20, Para Adams 18-24, BWO Extended Body 18-22, Black Beauty 20-24. Downstream of the C&R in Taylor Canyon, we are seeing a myriad of hatches including caddis, stones, Drakes, and PMD's. This is making for fantastic dry fly and dry/dropper fishing in the afternoons. The caddis hatch is starting late morning and going through the afternoon into the evenings. The stoneflies hatch occurs at night so typically the morning is good with bigger stonefly dries like yellow stimulators and golden chubby Chernobyls. For caddis, yellow and tan elk hair caddis in sizes 12 to 18 are all fooling fish. Drakes and PMD's hatch simultaneously midday. The hatch can last anywhere from 20 minutes to a couple hours. The best hatches are in the upper canyon, and should hit the C&R over the next couple weeks. This is a great time of year to wade fish Taylor Canyon.
Water Flow Data
5-Day Outlook
as of 8/5/22
Nice summer weather means great conditions for throwing dries and dry/dropper rigs!
Techniques & Tips
as of 8/5/22
Dry Flies, Dry/dropper, Nymphing, Streamers.
Local Species
Available Year Round
Trout
Willowfly Anglers's

Recommended Fly Patterns

"Must-have" fly fishing patterns in descending order of importance:
| Name: | Colors: | Size(s): |
| --- | --- | --- |
| TH Duracell Jig | Natural | 16 |
| Quasimodo Pheasant Tail | Natural | 16 |
| Bead Head Barr Emerger | Grey | 16 |
| Micro Egg | Tan | 14 |
| Miller's Candy Cane Shrimp | White | 18-22 |
| Mole Fly | Brown | 18-24 |
| Adams | Dun | 16 |
| Tunghead Pheasant Tail Jig | Natural | 16 |
| Miller's D-Midge | Grey | 18-22 |
| Black Beauty | Black | 20-22 |
TH Duracell Jig
Hook fish instead of rocks with this tungsten nymph jig.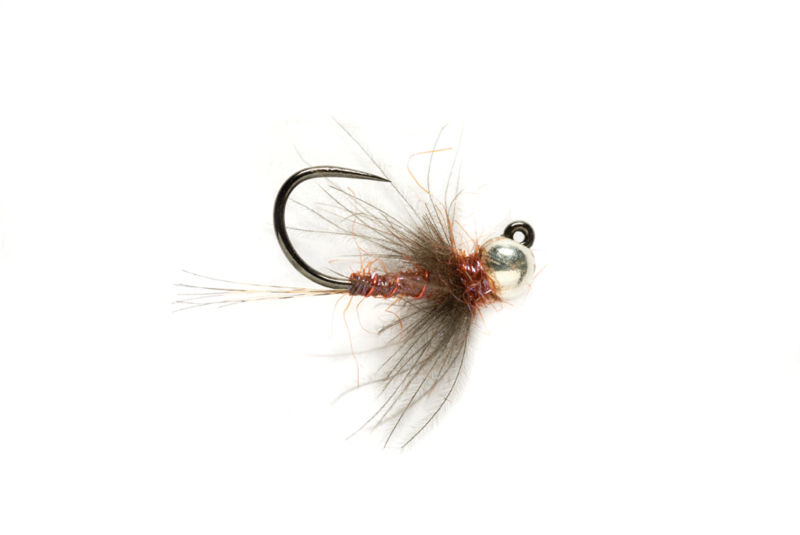 Willowfly Anglers's

Recommended Gear
Description:
About Taylor River
The Taylor River is fed from high up in the Colorado Rockies and drains into Taylor Reservoir at about 9,300 feet. The tailwater below the dam flows down through Taylor Canyon some 20 miles before it joins the East River to form the Gunnison River at Almont. The Taylor is a medium-sized river which contains deep pools and pocket water, and plenty of riffles and runs. The bottom releases from Taylor Reservoir provide constant and predictable flows, and consistent hatches throughout the season. The Taylor River contains a very high density of trout, including wild browns, rainbows, and cutthroat. Some rainbow trout are also stocked during the season. The upper section of the Taylor River just below the dam is designated catch-and-release (C&R) water. This is trophy trout water with a lot of fish in the 8 to 12-pound range, along with some much larger fish. These big wild trout enjoy a constant food source which includes a steady diet of mysis shrimp and midges. The C&R section can be very challenging and requires some technical angling skills. This section of the Taylor River can be fished year round. There is plenty of public access throughout Taylor Canyon. It can be a difficult river to wade, so many anglers use a wading staff for added safety. Chest waders are recommended. A 9-foot 5-weight fly rod is a good all purpose choice for the Taylor River. The peak season is from mid June to mid September, and fall fishing in Taylor Canyon can be spectacular.
Nearest Airport:
Gunnison-Crested Butte Airport
Hatches:
Green Drakes, Pale Morning Duns, Caddis, Golden Stones, BWO, Midges
Best Time to Fish:
10am - 7pm
Best Stretch:
Taylor Canyon
Best Access:
Taylor Canyon