Fishing Outlook & Conditions
Heads Up Flyfishing's Tip of the Week
The Animas is starting to color up a bit with all of the low elevation rain.. The cooler temps have arrived and fishing is going to be the best around the warmer parts of the day. Try small baetis nymphs or a Caddis pupa followed by a midge pattern. Fish have been taking streamers as well, olive seems to be the color of choice.
Water Flow Data
5-Day Outlook
as of 3/20/23
The weather looks very wet this week with a cold front moving in on on Tuesday and some more snow.This could slow the dry fly activity but nymphing should continue to be productive. Even with the colder temps the fishing should be good but probably best 10am to 2 or 3pm
Techniques & Tips
as of 3/20/23
Nymphing small bugs is probably going to be the most productive method of fishing right now. Some fish have been rising to midges in the afternoons. A small steamer twitched slowly could entice one of our larger fish to eat!
Local Species
Available year round
Trout
Heads Up Flyfishing's

Recommended Fly Patterns

"Must-have" fly fishing patterns in descending order of importance:
| Name: | Colors: | Size(s): |
| --- | --- | --- |
| Tunghead Prince | brown | 16 |
| Flashback Baetis Nymph | brown | 18 |
| Tunghead Soft Hackle Pheasant Tail | tan | 18 |
| Bead Head Rubber-Legged Pheasant Tail | brown | 16 |
| Stimulator | Orange | 12 |
| grey foam wing emerger | grey | 18 |
| Griffin's Euro Candy Caddis | olive | 16 |
| Nutcracker | tan | 4 |
| Tequilly streamer | N/A | |
| Hopper | Tan | 4 |
Tunghead Prince
Peacock herl adds vivid coloration to this Tunghead Prince nymph fly.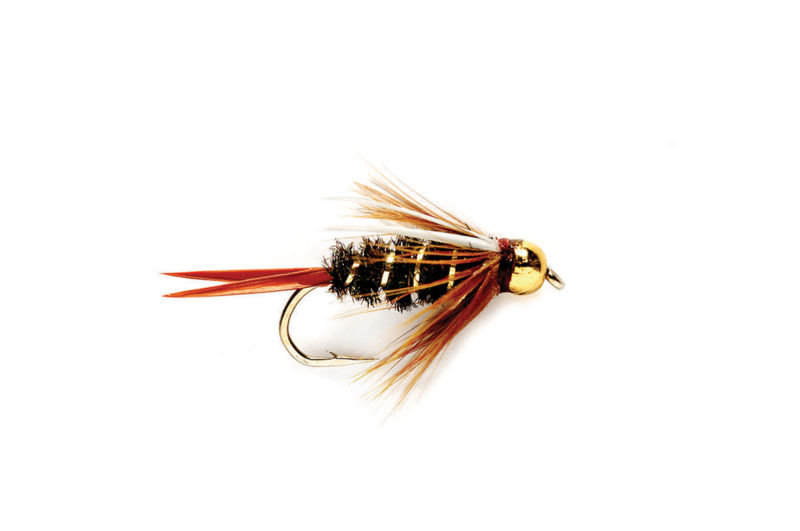 Heads Up Flyfishing's

Recommended Gear
Description:
About Animas River
The Animas River begins its 126 mile journey high in the San Juan Mountains near Silverton, Colorado. It's full name, Rio de las Animas Perdidas, The River of Lost Souls, gives an air of mystery to this incredible fishery. The Animas begins as a small creek full of feisty brook, cutthroat, and rainbow trout. It drops down through the mountain canyons picking up tributaries and snow melt along its way until it hits the beautiful Animas Valley just north of Durango. This stretch of river is slow moving and meanders through oxbows on the valley floor. This can be a great dry fly fishery in the summer when flows are high enough to float. As it travels through town, the Animas gets a steeper gradient and becomes faster moving. From town on south the river is full of bubbly runs and fast riffles, big boulders, and deep pools typical of a freestone river. The hatches here are varied, we have everything from tiny midges to monster salmon flies. Our most consistent hatches are midges, blue winged olives, and caddis. There are some truly incredible fish in this river, with browns and rainbows well over the two foot mark caught each year. Don't forget the meat box, the Animas is a streamer junkies delight!
Nearest Airport:
Durango La Plata County
Hatches:
Mayflies, caddis, midges, stoneflies,
Best Time to Fish:
10am- 3pm
Best Stretch:
Above 9th street bridge
Best Access:
High bridge