Fishing Outlook & Conditions
Swan Point Landing's Tip of the Week
Occasionally check hook points, loop knots, and loosening rod sections, A bit of late afternoon grinding just might produce that "spotted gray sub" of the season on cork, foam and deer hair top waters CONCENTRATE ! Theses girls don't come easy or often, but it makes it that much better when it comes together!! Take boat or kayak NOISE out of your stalk..... when winds are high, look for clear to slightly off color lee shorelines, walk slow and make the first cast count. Make sure running line is instantly transferred to rod hand's forefinger for ASAP skinny-water eats, while prospecting!! More importantly, if the first cast is off, QUIETLY pick up line leader and fly and put on future path of fish. Hold slow sinking flies in path until fish comes and then twitch them AWAY from fish. Be mindful of early AM long shadows that you cast from boat , while covering water., you don;t have to pole from platform early if fish are spooking off your taller approach ..pole from the deck for lower profile and shorter AM shadows
Tide data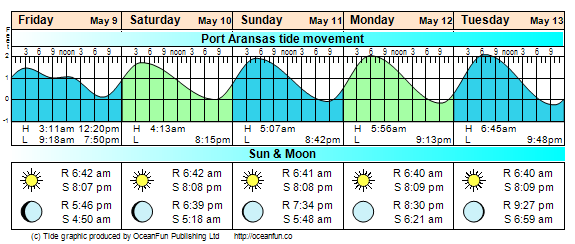 5-Day Outlook
as of 1/24/23
"KIll switch" law in effect for boat operators at be faster than headway speeds Area recovering from generational Arctic freeze in February 2021 with 17* and 20* evenings with significant kill of game fish, bait, turtles, and mangroves. NEW Trout regulations in effect: March 16th , 2022 thru late August 2023 - 3 trout per angler per day -17" to 23" slot may be retained, no oversize trout permitted at all thru 8/31/2023 NOTE: Proposal to close Ayres, Mesquite and Carlos Bays to oyster harvest PASSES unanimously with TPW commissioners Nov. 3rd! early week clouds and strong SE winds pick up before Tuesday afternoon cool front brings cooler AMs, clearing and and Nw to NE winds before coming around to SE late Friday with weekend storms to mid week storms with winds coiming around to E to SE next week Tides normal to above normal with strong SE gusts and New Moon looking to fall out with early week norther and N winds all week , South Zone Texas Duck second split resumed Dec. 11th to Jan 30th ...consider binoculars to check early and late coves for "live " duck blinds , avoid poling , paddling or wading thru decoys red fish holding well for good casters eating small black and dark olive along with scattered single fish trout to 20" trout to 25" on weighted chartruese seaducers in potholes and drop offs near big water and ICWW Reds on small dark crabs> olive, black purple and blue and tan shrimp patterns . Fishing good on edges, grass flats and lake's draining creeks check Port Aransas and Rockport edge flats and channel edges on high-sun, mid-week walks for reds on tan toads, grizzly seaducers and kwans (#2) working well on sight casting to XL reds, all warm weather fish from points north, on front beach / guts > all Tarpon, jackfish sharks , XXL reds gone south for winter Blind cast early and late to drop offs to deeper water (3') before moving in shallow to sight-casting mode after 0900 w/ tan, slow sinking flies on first half of cloudy mornings gurglers and small deer hair flies may work later in day with laid up in real shallow water fish . consider wading to lower profile going thru shallow lakes and skinny flats.... consider 10' to 12' tapered leaders w/ 12# to 16# fluoro tippet in clear water.. poling from deck, will lower early AM profile and shadows. PLEASE limit your kill of gamefish in 2022 , especially trout ; as a number of 2022 " kill" tournaments have turned into Catch, Photo,& Release ..thanks CCA Texas!! please gently release large female trout (Males grunt when held and most trout over 21" are females) fish have been finicky with good anglers grinding out a dozen fish with many refusals. try black / purple on picky reds. please avoid running shorelines to find fish...,if you ease in and drift out of flats, there will be fish there most of the time in more places . try tan, olive, and black crab, Seaducers, Clousers sizes 4, 2 and 1 and go to all grizzly "roadkills" for picky fish...cover water with baitfish patters to 2/o with or w/o weight on low water near drop offs and ICWW.. check ICWW edges late for fish crawling up to warm up and eat on low barge traffic days The ANW Refuge will be CLOSED to inland lakes boat traffic and closes annually with whooping cranes arriving here 10/15 to April 15 . Whoopers are moving in with each cold front to ANWR and adjacent bay systems. illegal to "kick" these birds up with boats, give them plenty of space while wading or poling.....
Techniques & Tips
as of 1/24/23
Use large streamers early WInter/ Spring searching .. move to sight-casting mode with rising sun around 8:30 to 4:00.... Get OUT of the boat when you have bait and know fish are there, Check white sand/ grass flats mid-day for cruising, sunning trout with long leaders (up to 12' and 12#) and small wtd flies (Blind Chicken, White, gray, and ginger bead-eye seaducers, grass shrimp size 2-4) and small dark ( #4 black, dark olive, and purple) crabs...stay with picky, spooked fish until they are out of range, go to small grizzly, tan, and black flies on picky (full Moon) fish
Current Conditions
as of 1/24/23
. go to 2-3' of 15# flurocarbon tippet off nylon leaders, for better sink rate and less visibility. Get out and walk when high winds make your boat or kayak a noisy liabililty WIth low sun go to shallower flats and look for waking or tailing fish, V shaped tails are mullet from finger size 3" to 18" "horse" mullet...... large bodied wakes or "mud stirs" usually kicked up by gamefish....
Local Species
Available January 1 - December 31 (Prime: March 1 - November 30)
Redfish

sea trout

tarpon

mackeral jack crevalle
Swan Point Landing's

Recommended Fly Patterns

"Must-have" fly fishing patterns in descending order of importance:
| Name: | Colors: | Size(s): |
| --- | --- | --- |
| seaducers allsize/ color | wh/ ginger | 4- 4/0 |
| EP crab style flies | black | 2, 4 and 6 |
| Woolheads mullet | gra/wh wh/wh | 2 - 2/0 6 |
| sm wh. seaducers 4 cruisers | griz & olive griz | 2,4, and 6 |
Swan Point Landing's

Recommended Gear
Description:
About Gulf Coast
Located just north of Corpus Christi, Tx. Known for it's vast shallow flats that run north and south and to the east towards the gulf, fed by Port Aransas Jetty, Packery Channel, and recently opened Cedar bayou fish pass. Super shallow running boats are required to fish much of this area and ALL TEXAS GRASS FLATS ARE NOW protected from prop scarring DAMAGE!! PLEASE pole or drift IN, and drift or pole OUT to deeper water!! Redfish and speckled trout are the primary targets in this area. In the late Spring, ladyfish, Tarpon, Jack crevalle, spanish and king mackeral are added to the list on flats near PA jetties, Lydia Ann and Corpus Christ ship channels....big fish in on rocks through Halloween and then move south to Port Mansfield and Port Aransas' Boca Chica jetties by December....Mexico by New Years....
Nearest Airport:
Corpus Christi, Tx
Bait Recommendations:
Despite a good drop of blue crabs with the rain in May '15 and 2016, finger mullet and small white shrimp will be main course thru early summer months, while fish still eating well-cast, dark crabs in black, olive and brown (2-4) Cover water blind, early with large white / tan/ gray baitfish patterns and sight cast with smaller versions / seaducers and go to dark crabs if fish get picky....clearing water asks for fluoro tippets and consider, leaders up to 12' w/ 12>16# fluoro tippets on calm mornings walking down wind