Fishing Outlook & Conditions
Doc Thompson's Tip of the Week
Flows out of Eagle Nest Lake have dropped, water is slightly stained to stained from recent rains. Fish dries in the riffles and along edges. Fish dry-droppers in the deeper water. Fishable flows coming out of Eagle Nest Lake. Fishing has been good last few days even with slightly lower flows. Late mornings through afternoons have been the better fishing times. Fish are mostly in the deeper water and bend pools still however they are starting to spread out. Fish dry-droppers with a smaller nymphs or double nymph. A few lingering Baetis early May and should start seeing a few other mayflies hatches later in May and some smaller stoneflies.
5-Day Outlook
as of 8/2/22
We have been getting really good rains which is keeping temps nice and cool for the most part. Flows out of Eagle Nest are at a good dry fly flow! Look for good mayfly hatches in mornings, seeing caddis too, starting to see terrestrials action in afternoons. Should start seeing some Tricos soon. Expect these conditions to continue.
Techniques & Tips
as of 8/2/22
Fish dries along the edges and in shallower riffles. Fish dry-droppers in the deeper water. Wade smooth and quietly! Please show some politeness and etiquette when you see other anglers.
Local Species
Available Mid April through October
Brown Trout and Rainbow Trout
Doc Thompson's

Recommended Fly Patterns

"Must-have" fly fishing patterns in descending order of importance:
| Name: | Colors: | Size(s): |
| --- | --- | --- |
| Adam's Purple Parachute | N/A | 14-16 |
| Hopper | tan, olive | 14-16 |
| E.C. Caddis | tan olive | 14 |
| Elk Wing Caddis | yellow | 16-18 |
| Nymphs | olives and black | 16-20 |
| Hare's Ears | natural | 16-20 |
| Higa's S.O.S. | black or olive | 18-16 |
| Orvis CJ Nymph | red | 16-18 |
| Pheasant Tails | natural | 16-18 |
| Midges | gray black | 18-20 |
Adam's Purple Parachute
Tie on this deadly purple parachute dry fly to show trout something unique.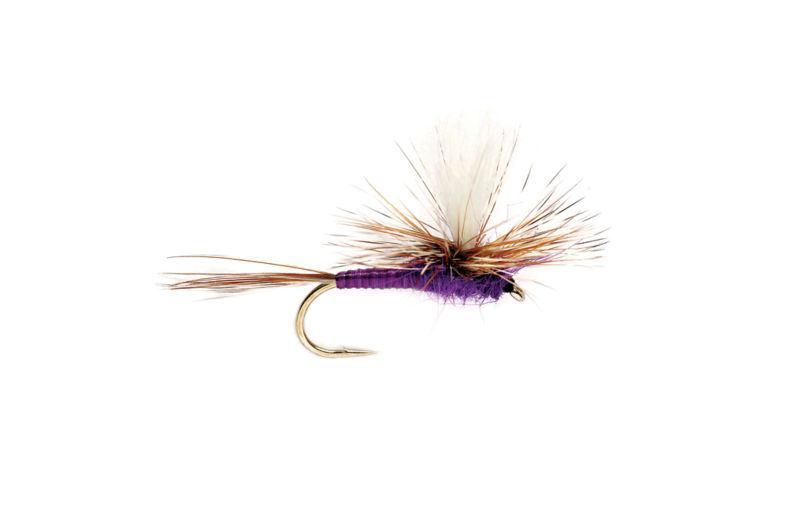 Doc Thompson's

Recommended Gear
Description:
About Cimarron River
The Cimarron River is located in Northern New Mexico and flows east from Eagle Nest, NM, through the Cimarron Canyon State Park and continues eastward to Cimarron, NM. There is 8-10 miles of public access in the Cimarron Canyon State Park. Three miles of private water can be accessed through Orvis Endorsed Guide, Doc Thompson. The Cimarron River is technically a small tailwater that fishes and looks more like a mountain freestone stream. The water features include riffles, pockets, bend pools, undercut banks, beaver ponds, drop-offs, runs and everything in between. These water characteristics, along with a dense aquatic insect population, make the Cimarron one of the best wild brown trout fisheries in the Southwest. New Mexico Game and Fish does stock rainbows throughout the Cimarron. The best time to fish the Cimarron is from May through mid October. Key hatches include Golden Stoneflies, PMDs, Tricos, Caddis, BWOs, Midges and Terrestrials. The Cimarron Canyon State Park has three maintained campgrounds with tent and RV sites. The small communities of Eagle Nest and Cimarron are the closest towns with basic amenities of restaurants, places to stay, gas stations, groceries and fishing licenses. The larger towns of Taos, Red River and Angel Fire offer more amenities but with a little longer drive.
Nearest Airport:
Major airlines fly into Albuquerque International Sunport, private planes can fly into Angel Fire
Hatches:
A few different mayflies, some caddis and terrestrials
Best Time to Fish:
Morning through afternoon
Best Stretch:
Cimarron Canyon State Park and the lower private water.
Best Access:
Cimarron Canyon State Park