Fishing Outlook & Conditions
Orvis Phoenix 's Tip of the Week
Some great ant hatches happening in the afternoon. Lots of fish still being caught on the normal woolly buggers, you can never go wrong with a beetle this time of year either!
5-Day Outlook
as of 10/1/23
Hoppers and beetles!! Strip streamers on the bank if your willing to catch some good fish! New Zealand Mud Snails have been found in Canyon Creek and AZGFD is asking for your cooperation in cleaning your boots when arriving and leaving! Spray your boots with Formula 409 and let dry for 15 mins and this has been working well. Make sure you take a 4x4, because that road can be a slippery one during the rainy and snowy season!
Techniques & Tips
as of 10/1/23
Small stream tactics rule, make the first cast into each pool count. Limit false casting, start at the bottom of a section and work your way to the top. Place casts slightly above likely holding spots and be ready for an immediate eat. In the winter and early spring during high flows, focus on undercut banks and holding structure, large streamers or buggy dry flies can be productive when they are heavily feeding. During low water focus on particular spots and try and spot fish before casting.
Local Species
Available Year Round-Check for road closures
Brown Trout

Rainbow Trout
Orvis Phoenix 's

Recommended Fly Patterns

"Must-have" fly fishing patterns in descending order of importance:
| Name: | Colors: | Size(s): |
| --- | --- | --- |
| Orvis CJ Nymph | Chart, Copper | 14-18 |
| Tunghead Hare's Ear Flashback | Olive, Natural | 14-18 |
| Flying Ant | Black, Brown | 12-16 |
| Hopper | Olive, Tan | 8-14 |
| Sparkle Minnow | Brown | 8 |
| Roly Poly crane fly | brown | 10 |
| Tactical Peeping Caddis TH Jig | Natural | 10-12 |
| Bead Head Woolly Bugger Streamer | Olive, Black | 6-12 |
| Near Nuff Sculpin | Olive | 6 |
| Galloups Ant Acid | Black | 14-16 |
Orvis CJ Nymph
You're guaranteed to catch a lot of fish with one of these bead head nymphs.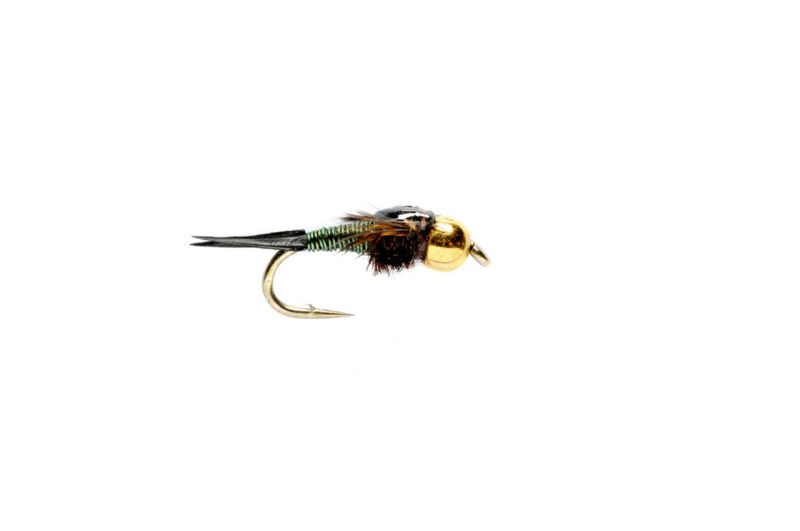 Orvis Phoenix 's

Recommended Gear
Description:
About Canyon Creek
Canyon Creek is one of the best streams along the Mogollon Rim. This is the home stream of the Zane Grey Chapter of Trout Unlimited, one of the biggest chapters in the country. TU along with AZGFD has done a wonderful job restoring this stream after the Rodeo-Chediski fire and we believe this small stream is fishing better now than ever. Upper Canyon Creek while holding some resident Brown Trout is mainly a stocked Rainbow Trout fishery. Lower Canyon Creek, below the OW Ranch, is catch and release water with several big pools as well as riffles running into the pools. The lower section is a wild Brown Trout fishery, holding many large 20"+ fish in its larger pools. As with all small streams approach and presentation are as if not more important than fly selection. The gate to the lower creek is closed from Nov-March, but the creek can still be accessed via 4 x 4 vehicle and a short albeit steep hike into the canyon.
Nearest Airport:
Payson
Hatches:
hoppers, beetles, ants, BWO on cloudy days, and some bigger fall caddis.
Best Time to Fish:
All Day; cloudy days are excellent
Best Stretch:
White Mountain Apache Reservation border to OW Bridge
Best Access:
Airplane flats or 188 National Forest Road