Fishing Outlook & Conditions
Orvis Phoenix 's Tip of the Week
The Black river is fishing phenomenal this month, big browns on big streamers! If you are planning to access the lower through the San Carlos, plan ahead to get your permit. Smallies are smacking poppers! Apache Gold Convenience store is your most consistent place to get one.
Water Flow Data
5-Day Outlook
as of 6/4/23
We have been having tons of luck near wildcat crossing swinging big streamers through the pools! Some flat water has been on fire with a good dry fly bite! Get over to the lower section and grab some poppers and smack some smallies!
Techniques & Tips
as of 6/4/23
Strip streamers along the undercut banks or bushy attractors thrown in the white water. If fishing the lower section, the MOAD has been hard to beat! If water is a little stained, try a May's Clearwater Crayfish
Local Species
Available April through November(no winter access to upper river)
Brown Trout

Apache Trout

Rainbow Trout

Smallmouth Bass(lower river)
Orvis Phoenix 's

Recommended Fly Patterns

"Must-have" fly fishing patterns in descending order of importance:
| Name: | Colors: | Size(s): |
| --- | --- | --- |
| Rosenbauer Parachute Beetle | black | 10-14 |
| Hopper | tan,olive | 8-16 |
| Adams | hares ear | 16-20 |
| Griffith's Gnat | black | 16-22 |
| Articulated Streamers | Black,olive | 2 |
| Moad | Crawdad | 4 |
| Bead Head Prince | Black | 14-18 |
| Bead Head Woolly Bugger Streamer | Black, Olive | 2-12 |
| Sparkle Minnow | Olive | 4 |
Rosenbauer Parachute Beetle
This terrestrial beetle fly is an effective searching pattern or attractor.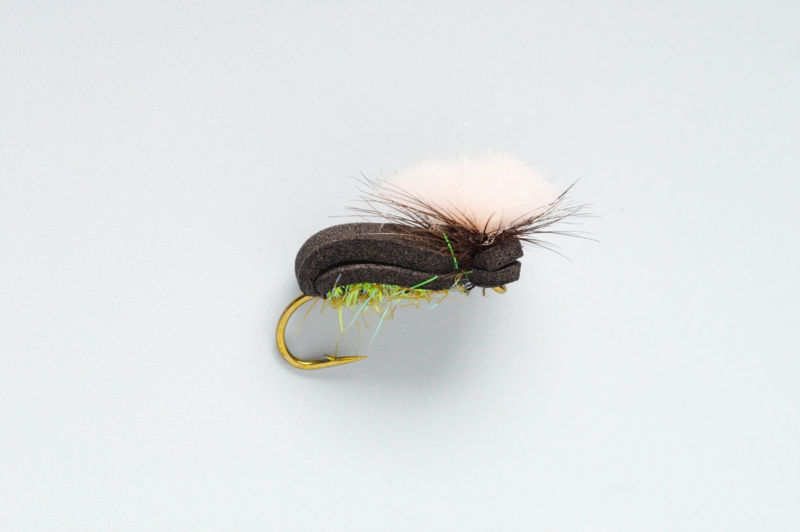 Orvis Phoenix 's

Recommended Gear
Description:
About Black River
The Black River, from the East and West Forks high in the White Mountains to the 80 mile long main stem is some of the best moving water in the state. The upper reaches are trout water, once it enters the Apache Reservation it begins to transition into smallmouth bass water. Access on the upper portions is good with many forest service roads meeting the stream. The middle and lower sections of the Black are 4 x 4 only access points, with most requiring a long hike into the canyon to get to the stream. 80 miles with only 10 access points makes this a great place to find solitude and some amazing fishing. Special Use permits are required for the main stem from either the San Carlos or White Mountain Apache tribe depending on what side you enter from. Access may be limited in winter due to snow.
Nearest Airport:
Showlow
Best Time to Fish:
Morning to Afternoon
Best Stretch:
West fork Campground or the section off road 273!