Fishing Outlook & Conditions
Mossy Creek Fly Fishing's Tip of the Week
It is peak terrestrial season with hoppers, ants, beetles, and crickets. Cooler weather will make for more enjoyable fishing conditions later this week.
5-Day Outlook
as of 10/2/23
Detailed Forecast TonightPatchy fog after 4am. Otherwise, mostly clear, with a low around 55. Northeast wind around 6 mph becoming calm in the evening. TuesdayPatchy fog before 7am. Otherwise, sunny, with a high near 82. Calm wind becoming northeast around 5 mph in the afternoon. Tuesday NightMostly clear, with a low around 53. Light and variable wind. WednesdayPatchy fog before 10am. Otherwise, sunny, with a high near 83. Calm wind becoming southeast around 6 mph in the afternoon. Wednesday NightMostly clear, with a low around 51. Southeast wind around 5 mph becoming calm in the evening. ThursdayMostly sunny, with a high near 77. Thursday NightMostly cloudy, with a low around 57. FridayMostly cloudy, with a high near 75. Friday NightA chance of showers between 8pm and 2am. Mostly cloudy, with a low around 55. Chance of precipitation is 30%. SaturdayMostly sunny, with a high near 66. Saturday NightMostly clear, with a low around 41. SundaySunny, with a high near 61. Sunday NightPartly cloudy, with a low around 38. Columbus DayMostly sunny, with a high near 61.
Techniques & Tips
as of 10/2/23
Prospect around the creek with big hoppers and cricket patterns. Tricos are still coming off in the morning
Local Species
Available Year Round
Brown Trout
Mossy Creek Fly Fishing's

Recommended Fly Patterns

"Must-have" fly fishing patterns in descending order of importance:
| Name: | Colors: | Size(s): |
| --- | --- | --- |
| Birchell's Hatching Midge | tan, brown, green | 20 |
| Spotlight Caddis Emerger | N/A | 16 |
| Sparkle Dun | black | 18 |
| Indicator Spinner - Trico | black, red | 14-16 |
| Near Nuff Sculpin | N/A | 4,6,8,10 |
| Trow Minnow | Black | 2,4,6 |
| Muddler Minnow | N/A | 12-16 |
| Vernille San Juan Worm | N/A | 12-16 |
| PMX | rust | 10, 8 |
| Kreelex | Gold/Copper | 8,6,4 |
Birchell's Hatching Midge
This midge fly pattern can be used as a dry fly or emerger.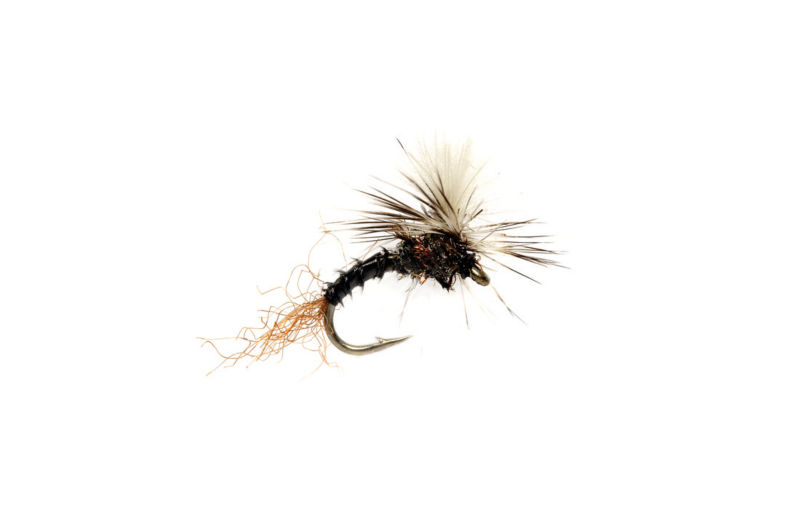 Mossy Creek Fly Fishing's

Recommended Gear
Description:
About Mossy Creek
Mossy Creek is a peaceful limestone spring creek that meanders from its springhead in the village of Mt Solon about 8 miles to its confluence with the North River. It is similar to Pennsylvania spring creeks with fishable hatches of many species of mayflies and caddis. A four mile section of Mossy is open to the public thanks to an arrangement worked out by the landowners, Trout Unlimited, and The Virginia Department of Game & Inland Fisheries. Each fall Mossy is stocked with fingerling brown trout. These fish grow quickly and the individuals that last a few years are as wild and wily as any stream born trout. Contrary to the information given in some regional guide books, Mossy is an extremely challenging stream and is not recommended as a place for beginners. Dry fly fishermen, familiar with Mossy's moods fish it carefully and slowly, often crouching or kneeling along the bank. Surface action can take place all year with tiny Olives hatching sporadically throughout the winter. By mid April hatches of larger blue winged olives and sulphurs become regular. Trico action usually begins around Memorial Day and can last until Halloween. It is the summer dry fly fishing for which Mossy is most famous. Most of the public section runs through open meadows. By late July trout are used to seeing grasshoppers, crickets, beetles, and ants and the fish become very aggressive on the surface. The average fisherman has his best chance of seeing and hooking really big fish in Mossy at this time. Streamer fishing on Mossy can also bring about some action from the largest fish. The best opportunity we usually see for landing the largest browns of the year is during a high water event. Heavy spring rains or tropical systems that move over the area dumping multiple inches a day will stain the water and increase the flow. The biggest browns will emerge from the undercuts and holes and move to the shallow moss beds and ambush disoriented bait washing downstream. Don't be afraid to throw flies in the 4-6 inch range to entice a strike by some of these monsters. Access to Mossy Creek is available with a FREE permit that is allocated at the Verona office of the VDGIF. The permit is good for 1 year from the date of issue.
Nearest Airport:
Shenandoah Valley Regional Airport
Hatches:
Sulphurs in the evening hours, BWOs, and tricos.
Best Time to Fish:
Early Morning Hours
Best Stretch:
The closer you are to the main springs the better the fishing
Best Access:
There are only 2 public access points: 1 at the Mossy Creek Church, and 1 at the 42/747 bridge.