Fishing Outlook & Conditions
Angler's Lane's Tip of the Week
Outflows from Gathright dam have continued at a steady flow. Hopper action is still in progress. Water flows from dam just dropped to 220, which is still generous considering inflows. Nymph fish if no action on top--caddis and beatis imitations and some stoneflies. Use heavier nymphs to get down deep. BWO's, little yellow stoneflies, sulfurs and caddis. Sulfurs are hatching occasionally. Be sure to exercise caution and patience when fishing the Jackson nowadays. We have a pretty good pulse on where the fish are. Sure could uses some rain. Contact Anglers Lane for a trip &/or overnight on the Jackson https://www.anglerslane.com/stonesthrow-on-jackson.htm Anglers Lane has been guiding the river since 2005. We guide the river year-round (many others lay off the river in mid-summer and winter).
Water Flow Data
5-Day Outlook
as of 9/25/23
Fairly stable near-term outlook. Check outflows closely at https://www.nao-wc.usace.army.mil/nao/projected_Q.html More info on flows and tailwater at https://www.anglerslane.com/stonesthrow-on-jackson.htm Guided trips available at 434-385-0200
Techniques & Tips
as of 9/25/23
Use nymphs fairly deep (euro nymphing works well) with focus on stoneflies and caddis patterns. BWO and caddis patterns sporacically on top. Streamers immitating alewives and sculpins especially in deeper pools. See Hatch info below. Anglers Lane can provide details, as this format is great for everything but flies, leaving room for only 4 flies not in typical Orvis lineup! Ask for "Jackson River nymph selection of the week" when you call us.
Local Species
Available all year, March - December best
Rainbow

Brown trout
Angler's Lane's

Recommended Fly Patterns

"Must-have" fly fishing patterns in descending order of importance:
| Name: | Colors: | Size(s): |
| --- | --- | --- |
| Adam's Purple Parachute | N/A | 10-16 |
| Tunghead Hot Spot Pheasant Tail Jig | N/A | 14, 16 |
| Hopper | N/A | 6, 8,10 |
| Vernille San Juan Worm | N/A | 20 |
| Green Monster (Anglers Ln exclusive) | Green or Gold | 12, 14, 16 |
| Perdigon | Copper | 12-14 |
| Sulphur Parachute | N/A | 6 8 |
| Indicator Parachute - Trico | N/A | 16-18 |
| Quill Jig | Purple | 12, 14 |
| Torins | N/A | 16, 18 |
Adam's Purple Parachute
Tie on this deadly purple parachute dry fly to show trout something unique.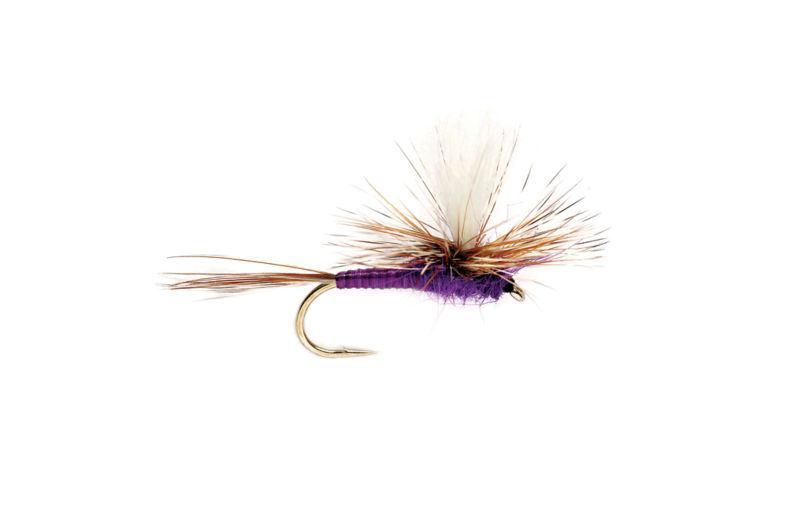 Angler's Lane's

Recommended Gear
Description:
About Lower Jackson River
Often described as one of the top southern trout fisheries, the lower Jackson below Gathright Dam offers both wild rainbow and brown trout angling opportunities to the fly angler. Whether drifting tiny midges with light tippet or seducing some of the larger fish with streamers, the lower Jackson has many attractions for the fly fishing enthusiast. Operators of the dam last summer 2021 did a great job of maintaining a relatively steady flow of cold clean water. Its waters hold a multitude of diverse aquatic invertebrates and forage fish for these trout to feed upon. Access is limited and trespassing is a serious deal here. The state discontinued stocking trout on the lower Jackson in 1993. However, the river has proven itself time after time in yielding strong numbers of wild trout. Just below Gathright Dam is the tailwater section that is open to public fishing. Small tippet, small flies, and long leaders work best in this section. Summer time water temps average in the 50's and low 60's which make for great southern summer trout fishing. There are other public water access points, but float fishing is by far the best way to fish this section of river. The area immediately below the dam has some didymo, which improves after Johnson Springs put-in/landing. Traffic in 2023 has been slower than in 2022, which is probably good for the river, as counts were off. Less traffic will give the browns and especially the rainbows a chance to recover and reproduce, in time boosting counts--so we hope. For most experienced float operation check out https://www.anglerslane.com/stonesthrow-on-jackson.htm
Nearest Airport:
Roanoke
Hatches:
BWO's, hendricksons, little yellow stoneflies, caddis, sulfurs. Mainly nymphs.
Best Time to Fish:
All day
Best Stretch:
Any of the public access points downstream from the dam. For private access of our properties when our lodge clients are not using them, call Angler's Lane at 434-385-0200. Day pass entitles you to variety of access points, and runs $125. Also see https://www.anglerslane.com/stonesthrow-on-jackson.htm
Best Access:
Public: Below Gathright Dam, Johnson Springs, Indian Draft, Petticoat Junction, Filtration plant. Be careful of landowners especially when walk & wading and anchoring; respect landowners who are fishing or preparing to fish (they probably have less flexibility than a floating fisherman).