Fishing Outlook & Conditions
Brown Trout Fly Fishing's Tip of the Week
The Davidson is running a little low today but we have rain coming. Fish should be concentrated in the runs both deep and medium, but definitely around the clearly deeper water. Stay off the fish a little so they don't spook. Rain is coming so expect flows to get higher. If it gets really big the fish will move to the edges
Water Flow Data
5-Day Outlook
as of 1/27/22
The coming rain should make things interesting. Increased flow will add food to the drift.
Techniques & Tips
as of 1/27/22
nymph, dry dropper, streamer
Local Species
Available Year Round
Trout
Brown Trout Fly Fishing's

Recommended Fly Patterns

"Must-have" fly fishing patterns in descending order of importance:
| Name: | Colors: | Size(s): |
| --- | --- | --- |
| Tunghead Soft Hackle Pheasant Tail | natural | 12-16 |
| Tunghead Zug Bug | peacock | 14-16 |
| Quasimodo Pheasant Tail | olive and natural | 14-18 |
| Adams Parachute Dry Fly | adams grey | 14-18 |
| Puff daddy | Gray | 20-24 |
| Small streamers | Black, Olive, Yellow | 6-8 |
| Shaky Worm | red/maroon/tan | 10 |
| TH Zebra Midge | all colors | 16-20 |
| Girdle Bug | Black/Tan | 4-8 |
| Walts Worm | natural | 8-14 |
Tunghead Soft Hackle Pheasant Tail
Guides everywhere are amazed by these soft hackle Tunghead patterns.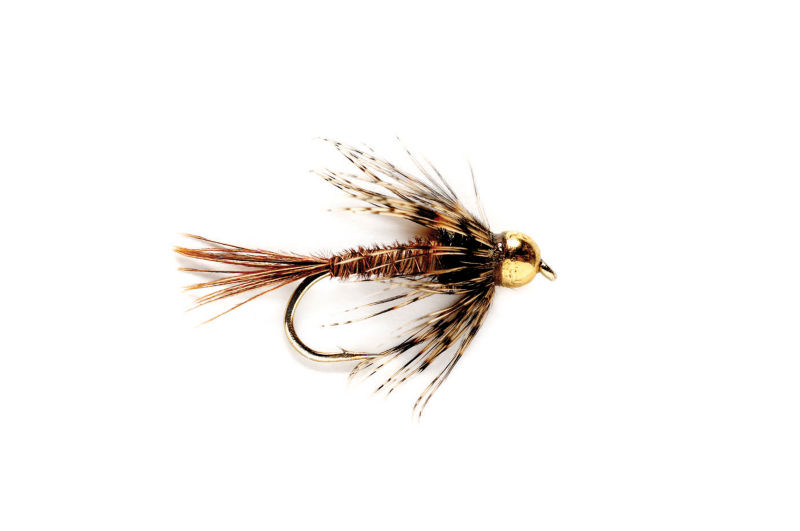 Brown Trout Fly Fishing's

Recommended Gear
Description:
About Davidson River
The catch and release regulated section of the Davidson River is known, to many anglers, as one of the top fly fishing rivers on the east coast. This is due, in part, to its excellent population of large trout and regularly occurring hatches throughout the year. In fact, there is a potpourri of aquatic insects evident at all times. The browns, rainbows, and brook trout all take advantage of these insects; however, midges take the reign as the most important food source on a year round basis. The Davidson is a small, freestone stream with sections of fast riffle water, pools, deep pockets, and glassy flat water. The fish are extremely educated due to its size and heavy angler pressure. These finicky fish are difficult to fool on most occasions unless anglers are proficient at sight fishing with tiny midge patterns and nymphs on the lightest of tippet. The fish average 10 to 16 inches but it is not uncommon for anglers to see and fish to trout that range in size from 20 to 30 inches. Productive patterns include zebra midges, pheasant tails, rainbow warriors, disco midges, stripper midges, Pat's rubberlegs, flash midges, RS2's, WD40's, WD50's, Rosenbauer's rabbit foot emergers, Mercer's micro mayflies, stimulators, and pheasant tail soft hackles.
Nearest Airport:
Charlotte, Asheville, Greenville/Spartanburg
Hatches:
Mayfly Stonefly Caddis
Best Time to Fish:
afternoon
Best Stretch:
The Main River from the national forest boundary to Looking Glass Creek, the hachery is not producing as many fish as the lower river is
Best Access:
Any of the pull offs along hwy 270