Fishing Outlook & Conditions
Orvis Atlanta's Tip of the Week
Fishing Report for 11/2/23 Chattahoochee Tailwater Streamer season is here, so be sure to book your trip with River Through Atlanta now for your best chance at a mature wild Chattahoochee brown trout this year! The lower temperatures at night and shorter periods of sunlight should have the wild brown trout feeding more actively and aggressively as we get closer to spawning season. Stratification (lake turnover) has started for the year, and water coming out of Buford Dam is very murky, with dissolved oxygen at its yearly low. Fish further south, around Island Ford, for best results. If you have any questions at all, feel free to come in and we will be happy to get you set up! For the Chattahoochee, state regulations require a certified personal flotation devise be worn by all anglers from Buford dam south to highway 20. Pay special attention to water release info online or call the number below for release schedules. Make sure to call the Corp of Engineers release hotline at 770-945-1466 before making your trip.
Water Flow Data
5-Day Outlook
as of 11/2/23
Turnover (stratification) on Lake Lanier is in full swing and has clouded up the river significantly at Buford Dam. The further south on the tailwater you go, the less this will effect the fishing. The days are getting shorter, and streamers are beginning to be effective early in the morning and late in the evenings. Please call the shop or the dam to get more timely info. You can call Buford Dam for last min updates.770-945-1466
Techniques & Tips
as of 11/2/23
Streamer fishing is a great way to fish and possibly catch a huge brown. Nymphing is always going to be the go to for those bottom feeding fish, the old Pat's Rubber legs, worm patterns, midge patterns, attractors such as rainbow warriors and lightning bugs to copper johns, and the classic pheasant tails and hare's ears in 12-18. If you are throwing streamers, anything from wooly buggers if you're throwing the smaller rods to large articulated patters like the bottoms up and dungeon patterns by Galloup for larger rods.
Local Species
Available All Year.
Rainbow Trout

Brown Trout

Carp
Orvis Atlanta's

Recommended Fly Patterns

"Must-have" fly fishing patterns in descending order of importance:
| Name: | Colors: | Size(s): |
| --- | --- | --- |
| Tungsten Cone Head Woolly Bugger | Olive, Black | 6-12 |
| Shaky Worm | N/A | 14-18 |
| Fly Formerly Known As Prince | N/A | 12-18 |
| TH Duracell Jig | Black | 6-8 |
| Kreelex Minnow | copper/gold/silver | 8 |
| Rainbow Warrior | Purple | 18 |
| Elk Wing Caddis | N/A | 16-18 |
| Adam's Purple Parachute | N/A | 14-16 |
| BWO's | N/A | 18-24 |
| Zebra Midge | olv, rd, blk | 18-24 |
Tungsten Cone Head Woolly Bugger
Get down deeper with these conehead flies.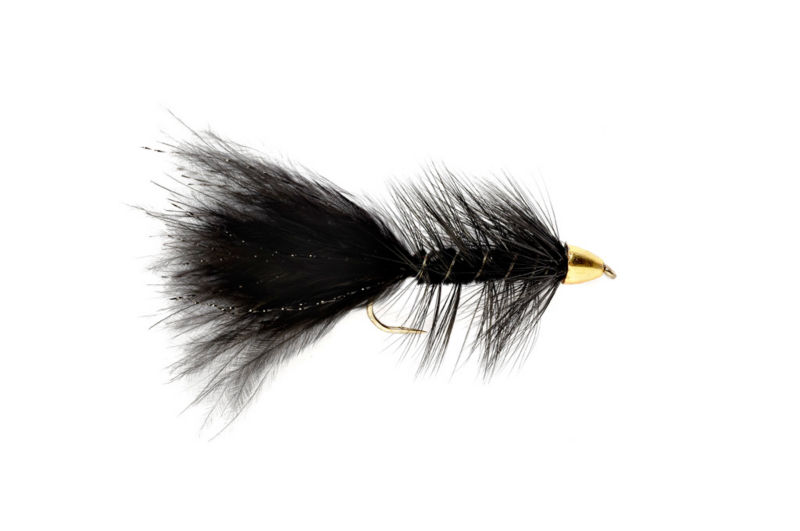 Orvis Atlanta's

Recommended Gear
Description:
About Chattahoochee River
The Chattahoochee River one of the most scenic river systems in the south. It is split into two sections of trout water, the upper head waters sections starting near the town of Helen, GA. The second is a classic tail-race fishery. Starting at Buford Dam on Lake Sidney Lanier. The "Hooch" as locals call it makes its way south through Georgia, and forms the GA & AL border until it empties into Gulf of Mexico in Apalachicola FL The upper river is 28 miles of year-round trout fishing with a healthy population of natural spawning brown trout and stocked rainbow trout. The lower river is a 5 mile section of Delayed Harvest fishing that starts on November 1st and runs through May 14th. This section is stocked with both Rainbow and Brown Trout. South of this area the river turns into marginal trout water, but supports an amazing population of warm water sport fish all the way to its end in the Gulf.
Nearest Airport:
Hartsfield-Jackson Atlanta International Airport
Hatches:
Junk Flies, Woolly Buggers, Big Articulated Streamers, Featherchangers
Best Time to Fish:
Low flows
Best Stretch:
Buford Dam to Island Ford Park
Best Access:
Buford Dam, Settles Bridge, Jones Bridge, Island Ford