Fishing Outlook & Conditions
Captain Rick Grassett's Tip of the Week
Look for false albacore in the coastal golf when conditions are good. Juvenile tarpon and snook are a good option around dock lights in the inside waters. Fishing deep grass flats for a variety of species is usually a good option for action and variety. Look for reds in skinny water and snook in the surf.
Tide data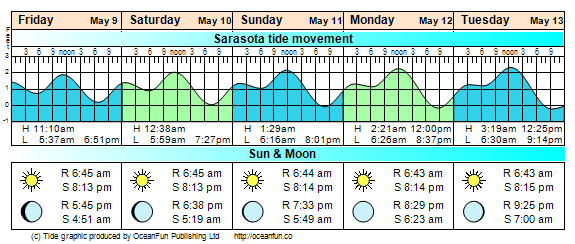 5-Day Outlook
as of 10/2/23
Look for reds and large trout in shallow water. Fishing the ICW at night for snook and juvenile tarpon can be excellent this time of year. Fishing deep grass flats of Sarasota Bay is a usually a good choice for action with a variety of species including trout, jacks, blues and more.
Techniques & Tips
as of 10/2/23
Use floating lines and 12' or longer leaders for tarpon, reds and snook in shallow water and sink tip lines with shorter leaders for fishing deep grass flats or deeper water. Fish the ICW at night for snook and juvenile tarpon or deep grass flats with intermediate sink tip fly lines and Grassett Snook Minnow flies or Shrimp Gurglers on a floating line.
Current Conditions
as of 10/2/23
Fly anglers fishing with me, out of CB's Saltwater Outfitters on Siesta Key, had action with trout and juvenile gag grouper on deep grass flats of Sarasota Bay and false albacore in the coastal gulf recently. Fly anglers also had decent action catching and releasing snook and juvenile tarpon in the ICW at night. Tight Lines, Capt. Rick Grassett FFI Certified Fly Casting Instructor Orvis-Endorsed Fly Fishing Guide & Fly Casting Instructor at CB's Saltwater Outfitters Orvis Outfitter of the Year-2011
Local Species
Available Fall
snook

tarpon

reds

false albacore

trout

bluefish
Captain Rick Grassett's

Recommended Fly Patterns

"Must-have" fly fishing patterns in descending order of importance:
| Name: | Colors: | Size(s): |
| --- | --- | --- |
| Grassett's Deep Flats Bunny | chartreuse/tan | 1-2/0 |
| Lefty's Deceiver | olive/white or brown | 1-2/0 |
| Grassett's Snook Minnow | white | 2 & 4 |
| Grassett's Flats Minnow | olive | 2 |
| Grassett Shrimp | Tan, white or pink | 2 |
| Ultra Hair Clouser | Chartreuse/olive | 1 or 2 |
| Banger/Rattle popper | olive/white | 1/0 |
| Shrimp Gurgler | white or tan | 1 or 2 |
Grassett's Deep Flats Bunny
Captain Rick Grassett's

Recommended Gear
Description:
About Sarasota Bay
Sarasota Bay is a gem, nestled between Tampa Bay to the north and Charlotte Harbor to the south along Florida's southwest coast. Due to 3 passes that flush the bay and no large tributaries flowing into it, the bay waters are normally very clean and clear. Its turquoise blue waters surrounding the passes may remind you of a Caribbean island and its fine white sand beaches are among the top rated beaches in the country. Although its shorelines are developed, lush sea grass flats are abundant and there are also numerous mangrove shorelines to fish. Approximately 10 miles long and 3 miles wide, Sarasota Bay has numerous mangrove islands and shallow flats with sand bars, oyster bars and potholes. It connects with Anna Maria Sound to the north. As you head south, the waterway narrows into several smaller bays; Roberts Bay, Little Sarasota Bay and Blackburn Bays. These areas have numerous oyster bars, grass flats and residential docks that hold reds and snook throughout the year. Spring and fall are prime times for fishing the flats of Sarasota Bay for snook, redfish, spotted sea trout, pompano, Spanish mackerel, bluefish and more. We also have seasonal migrations of king and Spanish mackerel and cobia in the spring and fall and giant tarpon from May through July. Little tunny (false albacore) thrill fly anglers year 'round, especially in the fall. Other fall fly fishing options include juvenile tarpon, snook, redfish and trout.
Nearest Airport:
Sarasota, FL
Bait Recommendations:
Glass minnows, pinfish, crabs and shrimp