Fishing Outlook & Conditions
TCO Fly Shop's Tip of the Week
Terrestrial season is here, get those ants, beetles and greenie weenies dusted off. Caddis and olives are providing fantastic action in the evening and on cloudy days. Make sure you're not skipping the fast shallow water, fish are holding there this time of year. Check the temps!
Water Flow Data
5-Day Outlook
as of 6/28/22
Please call for the most current weather and water levels. 814-689-3654
Techniques & Tips
as of 6/28/22
Best dry action will be just before dark. Trout have been feeding well mid-day on nymphs. The streamer bite has been best on darker, cloudy days or low light conditions. Try swinging a caddis pupa or emerger down and across stream. Nymphing small flies, scud/sowbug patterns always produces. Steamers have been moving fish in low light, small sculpin patterns or a sparkle minnow are the best choice.
Local Species
Available All Year
Brown Trout
TCO Fly Shop's

Recommended Fly Patterns

"Must-have" fly fishing patterns in descending order of importance:
| Name: | Colors: | Size(s): |
| --- | --- | --- |
| Rosenbauer Parachute Beetle | N/A | 12-16 |
| CDC Caddis | tan | 14-16 |
| Bead Head Hare's Ear Nymph | N/A | 14-18 |
| Flashback Scud Wet Hare's Ear | N/A | 14-18 |
| GD SculpSnack | N/A | 6-10 |
| Schultzy's S3 Sculpin | N/A | 4-8 |
Rosenbauer Parachute Beetle
This terrestrial beetle fly is an effective searching pattern or attractor.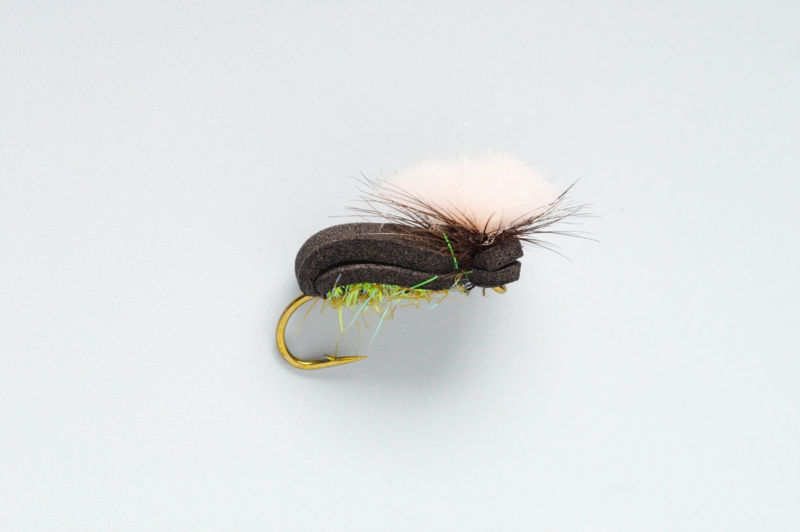 TCO Fly Shop's

Recommended Gear
Description:
About Spring Creek
Totally confined within Pennsylvania's Centre County, Spring Creek begins life at the base of Tussey Mountain, near the village of Boalsburg. Spring Creek is Pennsylvania's premier brown trout fishery with more wild fish per mile than any other stream in the state. Limestone feeder creeks--Cedar Run, Slab Cabin Run, Logan Branch, and Buffalo Run (wonderful wild trout streams in their own rights)--supplement cold, fertile, limestone water to Spring Creek's already trout-friendly flows. Spring's most productive water flows north, for 20 miles, to its confluence with Bald Eagle Creek at the town of Milesburg. But populations of both wild and stocked trout thrive far below this point. Trout average 10-12 inches, but do not let these smaller fish fool you. Spring maintains a good trout population from 13-20 inches and larger! The entire stream, from its source to its mouth, is catch and release, ensuring that these fish will stay in the stream, ready to challenge your skills. Legendary anglers George Harvey, Joe Humphreys, and Charlie Meck have called this water home. Come armed with your best nymphs, dry flies, and streamers and see if your skills can match those of the Pennsylvania masters.
Nearest Airport:
State College Airport - SCE
Hatches:
Tan Caddis (16-18) Black Caddis (16-18) Crane Fly (14-16) BWO (18-20) Midges (22-26)
Best Time to Fish:
early AM/evenings
Best Stretch:
It's all good, no such thing as bad water on Spring Creek
Best Access:
Benner Springs, Fisherman's Paradise