Fishing Outlook & Conditions
A & G Outfitters's Tip of the Week
We're starting to get some days that feel like fall, which can be a fun time for ants, beetles and other terrestrials and attractors. As long as flows and water temps cooperate.
Water Flow Data
5-Day Outlook
as of 9/13/23
Today's a transition day with next week looking to be the start of fall with highs in the 70s and lows in the 50s. Flows across the region should be in good shape as a dry stretch is expected to start this weekend. Temps are looking good as well. We should have a few weeks of nice conditions before we back off again for the spawn.
Techniques & Tips
as of 9/13/23
Nymphing the faster riffles and runs and looking for afternoon risers. Stripping streamers will be effective on days that are overcast or if the water is up.
Local Species
Available January thru June
Browns
A & G Outfitters's

Recommended Fly Patterns

"Must-have" fly fishing patterns in descending order of importance:
| Name: | Colors: | Size(s): |
| --- | --- | --- |
| Tunghead Pheasant Tail | N/A | 16-18 |
| Bead Head Caddis Pupa | Tan | 16-18 |
| Tunghead Hare's Ear Flashback | N/A | 16-18 |
| Indicator Spinner - Trico | Blk/Whi | 20-24 |
| Golden Stone | N/A | 8-10 |
| Elk Wing Caddis | Tan | 16-18 |
| Bead Head Woolly Bugger Streamer | Blk/Olv | 6-8 |
Tunghead Pheasant Tail
Adding tungsten beads to mayfly patterns is relatively new.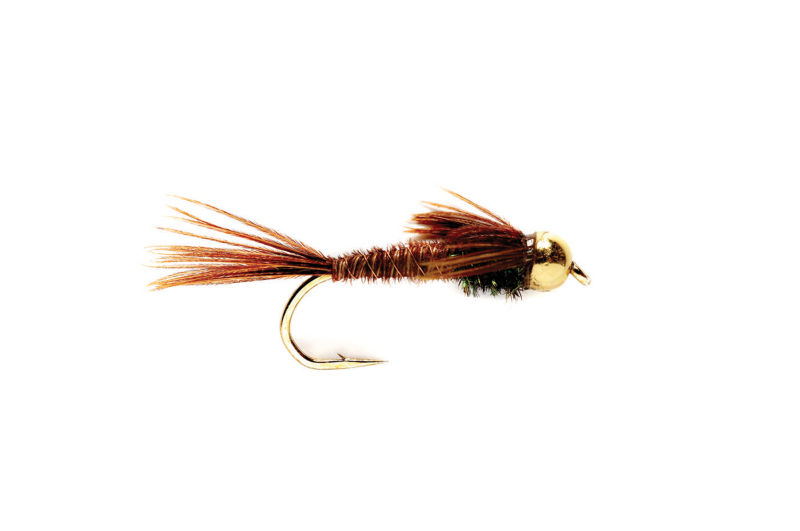 A & G Outfitters's

Recommended Gear
Description:
About Lackawanna River
The Lackawanna River begins in the southeast corner of Susquehanna County where its East and West Branches flow into Stillwater Reservoir, just south of Uniondale and about four miles north of Forest City. The final 3 miles of the river before its confluence with the Susquehanna have been too severely scarred by acid mine drainage to support any aquatic life. The remaining 37 miles below the dam contain significant populations of mostly wild, naturally reproducing brown trout, with little to no private water. Nearly 18 of those miles are designated by the PFBC as either "Class A Wild" or "Trophy Trout" water. There is an additional 8 miles of "Approved Trout" water above that. The remaining lower 11 unspecified miles have produced some of the largest fish in the river. Only the 8 miles of "Approved Trout" water are closed from March 1 to the opening day of trout season.
Nearest Airport:
Wilkes-Barre/Scranton International Airport
Hatches:
Tan Caddis 16-18 Olive Caddis 14-16 Tricos 20-24
Best Time to Fish:
Morning
Best Stretch:
From Forest City through Scranton
Best Access:
Archbald, Jessup, Olyphant & Dickson City