Fishing Outlook & Conditions
Fin Fun Charters's Tip of the Week
Bass are on both sides of the cape in good numbers. along with blues False Albacore are in but spotty
Tide data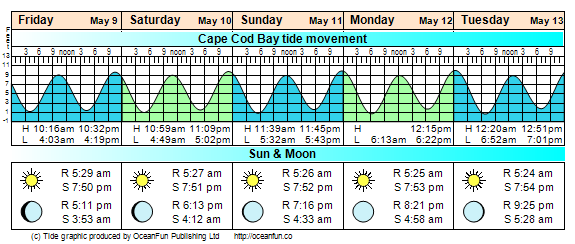 5-Day Outlook
as of 10/2/23
there are more bigger fish moving into the cape .
Techniques & Tips
as of 10/2/23
Any herring fish imitation . Mostly clousers and large sand eel flies and crab flies for the albacore small anchovy flies
Current Conditions
as of 10/2/23
Good Weather and wind have been a problem. There are plenty of fish around with numbers and size
Local Species
Available May to October
stripers

Blue fish

False Albecor

Bonito

and all species of trout
Fin Fun Charters's

Recommended Fly Patterns

"Must-have" fly fishing patterns in descending order of importance:
| Name: | Colors: | Size(s): |
| --- | --- | --- |
| Bucktail Deceiver | ortange | 1/0 |
| Clouser Minnow | white | 1/0 |
| Half And Half | orange/white | 1/0 |
| Clouser Minnow | chartruse/white | 1/0 |
| crab | all colors | 1 to 2/0 |
| squid | pink | 1/0 |
| Clouser Minnow | blue/white | 1/0 |
| Bucktail Deceiver | white | 2/0 |
| squid | orange | 1/0 |
Fin Fun Charters's

Recommended Gear
Description:
About Cape Cod Bay
Cape Cod Bay is the inside "arm" of the Cape, stretching from Marshfield on the West to Provincetown on the East, and Dennis, being the center of the Cape, to the South. Cape Cod Bay with its crystal, clear water has a wide range of fishing conditions. Marshfield and Plymouth to Brant Rock have a variety of structure with its rock covered shorelines to ledges and reefs. From the Canal to Provincetown, there are countless white sand flats to back water estuaries for the fly fisher to explore. To the south is sandwich Beach and Sandwich Creek that leads to Sandy Neck and the Scorton Creek area. Traveling East brings you to Barnstable Harbor, Bass Hole and Barnstable Flats. Brewster Flats in Brewster begins in Dennis and extends to Rock Harbor in Orleans. Moving North to Wellfleet harbor into Truro then Provincetown with white sandbars and flats yield large bass and blues. Just off shore, in the center of Cape Cod Bay, there are well known fishing areas that include Scorton Ledge, the Fingers and Billingsgate Shoals. For the Bay, bass will arrive the end of April and will stay until the end of October. First to arrive will be the smaller fish with the larger fish expected around the middle of May. Blue Fish will arrive the middle of May with the large jumbo fish showing first and then the smaller ones later in the month. Water temperatures will determine when both head south, normally the end of October. Giant Blue Fin usually arrive the middle of June, and will depend on water temperatures.
Nearest Airport:
Logan Boston-T.F. Green- Providence R.I.
Bait Recommendations:
herring, sand eels, squid and crabs