Fishing Outlook & Conditions
Bear's Den's Tip of the Week
Keep a variety of smaller baitfish imitations in the fly box. Schools of Peanut Bunker, Bay Anchovies, Silversides and small squid have all been seen in good numbers recently.
Tide data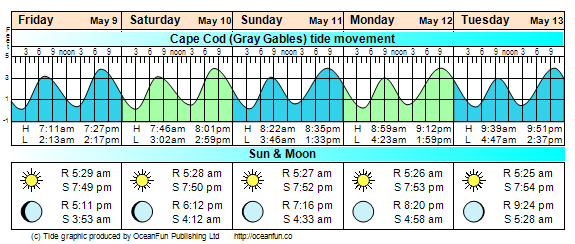 5-Day Outlook
as of 10/3/23
Inconsistent weather has been leading to spotty fishing, but the good days have been very productive. Albacore are not being seen as frequently from shore, but they are still being caught in decent numbers a bit further out. Still plenty of good fall fishing to be had before it slows down for the year.
Techniques & Tips
as of 10/3/23
Sub surface. Changing retrieve speeds to figure out a preferred tempo.
Current Conditions
as of 10/3/23
Weather and water warming substantially. The fish are here in good numbers with plenty of bait to sustain consistent daily feeds.
Local Species
Available Year Round
Striped Bass

Bluefish

False Albacore
Bear's Den's

Recommended Fly Patterns

"Must-have" fly fishing patterns in descending order of importance:
| Name: | Colors: | Size(s): |
| --- | --- | --- |
| Strolis Simple Baitfish | All | 2/0 |
| Mud Dog Dazzle Bait | All | 3/0 |
Bear's Den's

Recommended Gear
Description:
About Cape Cod
The beautiful and productive waters of Buzzard Bay run from the west end of the Cape Cod Canal in Bourne, near the Massachusetts Maritime Academy westward to Falmouth and the Elizabeth Islands. This unique and varied body of water includes the deep water channel of the Cape Cod Canal, numerous estuaries, flats and back bays. The diversified bottom structures include sandy drop-offs, bolder strewn edges, eel grass covered flats and calm water back-bays. The strong currents running through the canal provide some of the best fly and light tackle fishing opportunities in the Cape Cod area. The Cape Cod Canal land-cut sets up the perfect short-cut for bait fish and predatory species to reach both sides of Cape Cod. Stripers, Bluefish, False Albacore, Bonito, Sharks, Tuna and even an occasional Whale use this passage.
Nearest Airport:
Logan Airport Boston, MA or Green Airport Warwick, RI
Bait Recommendations:
Herring, peanut bunker, sand eels, silversides, mackerel, squid, bay anchovy