Fishing Outlook & Conditions
Orvis Milwaukee's Tip of the Week
Levels steady at about 150CFS. Kings have been in the river for about a week at this point. After a temperature spike this weekend, temps will again fall throughout the week and low will dip into the 40s and possible 30s by the end of the weekend which should drive a larger portion of the King run!
Water Flow Data
5-Day Outlook
as of 10/2/23
Check www.noaa.gov or your local weather for more updates. After an un-seasonal warming trend over the weekend, temps steadily fall off throughout the week with lows dipping in to the low 40s and even upper 30s by the end of next weekend. No substantial rain in the foreseeable future.
Techniques & Tips
as of 10/2/23
With Kings in the river, it's time to bust out egg patters, egg sucking leeches and nymph rigs, swing flies through the seams with fluoro leaders on floating lines. Smallies and pike will still be eating streamers through the end of the month.
Local Species
Available Spring, Summer, Fall
Chinook/Coho Salmon

Brown Trout

Steelhead

Smallmouth Bass

Northern Pike

Walleye

Carp

Panfish
Orvis Milwaukee's

Recommended Fly Patterns

"Must-have" fly fishing patterns in descending order of importance:
| Name: | Colors: | Size(s): |
| --- | --- | --- |
| Wilson's Bass Bully | Rust / Chart | 4 |
| TeQueely Streamer | Copper | 2,4,6 |
| Clouser Minnow | All Colors | 2,6 |
| Woolly Bugger | All Colors | 4,6,8 |
| Wildwood's 3M Minnow | All Colors | 2 |
| Meat Whistle | All Colors | 2 |
| Schultzy's S3 Sculpin | Black / Olive | 4 |
| Gulley's Crawfish | Rust | 4, 2/0 |
| Messy Craw | All Colors | 4 |
| Nutcracker | All Colors | 4 |
Wilson's Bass Bully
A Bass Bully has all the ingredients of top bass flies.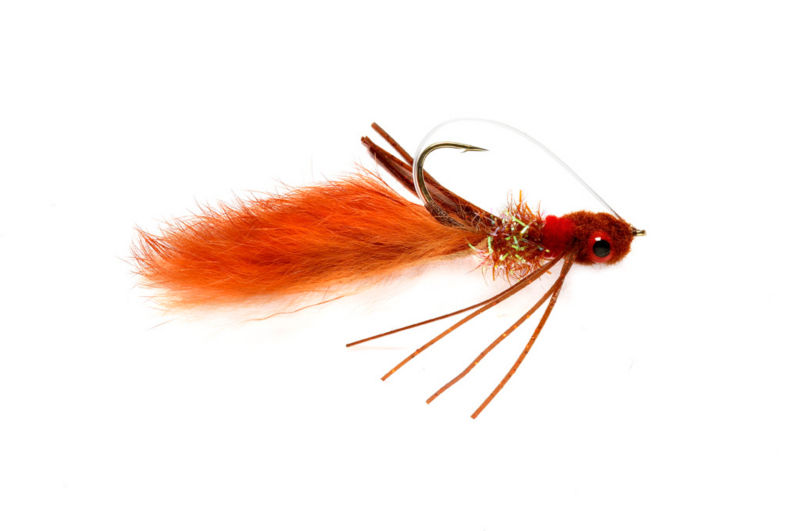 Orvis Milwaukee's

Recommended Gear
Description:
About Milwaukee River
The Milwaukee River headwaters start north of West Bend running through Milwaukee, three rivers drain into Lake Michigan under the Hoan Bridge after they meet in the heart of the city. The river offers seasonal steelhead, brown trout, and salmon fishing in the spring and fall, as well as a great warm water fishery for smallmouth bass in the summer along with northern pike, largemouth bass, rock bass, bluegill, carp, catfish and a variety of other species that can be targeted on the fly throughout the watershed.
Nearest Airport:
General Mitchell International Airport
Hatches:
Season by season: Spring: Beginning at ice out Steelhead will begin entering the river. This annual run of fish is rain dependant. The most dependable fishing begins when the water temperature reaches 40 degrees, usually in March, and lasts until the end of April stretching sometimes into early May. Swung streamers and nymphed egg patterns are solid producers. Summer: When the water temperature reaches close to 50 degrees in mid-May, Smallmouth Bass are the main gamefish at this time. Big Smallmouth as well as other species of warmwater fish can be exciting on a popper or a big streamer. Fall: Around October 1st, large numbers of King Salmon, Coho and sometimes Lake Trout begin to make their way into the tributaries of Lake Michigan. These brutes will test any angler. Lake run Brown Trout and Steelhead will follow when the water temps drop below 50 degrees. This run will last until the river freezes over.
Best Time to Fish:
MId-Morning; Late afternoon into the evening
Best Stretch:
Between North Ave in the City of Milwaukee up to the Grafton Dam in Grafton, WI.
Best Access:
Hubbard Park, Estabrook Park falls, Kletsch Park falls