Fishing Outlook & Conditions
Orvis Westlake's Tip of the Week
Steelhead looks to be about done here. Still plenty of great opportunity in our local tributaries. Smallmouth bass and carp are great late spring and summer opportunities.
Water Flow Data
5-Day Outlook
as of 5/9/21
Weather is clearing up through this week and the river should fish well early this week.
Techniques & Tips
as of 5/9/21
Stripping a streamer or fishing a large stonefly under an indicator is your best bet. Focus deeper, slower water and shale drop-offs.
Current Conditions
as of 5/9/21
Weather is clearing up through this week and the river should fish well early this week.
Local Species
Available Summer
Smallmouth & Carp
Orvis Westlake's

Recommended Fly Patterns

"Must-have" fly fishing patterns in descending order of importance:
| Name: | Colors: | Size(s): |
| --- | --- | --- |
| Bead Head Flash Zonker | White, Olive, Black | 6, |
| Krystal Bugger | White, Black, Chartr | 6, 8, 10 |
| Cone Head Muddler Minnow | White, Olive, Brown, | 4,6,8 |
| May's Full Motion Crayfish | Orange | 4,8 |
| Little Rascal | White, Olive/White | 6,8,10 |
| Freshwater Clouser | White, White/Chartreuse | 4, 6 |
Bead Head Flash Zonker
When fishing for bass, this pattern fills the need for an all-purpose big fish fly.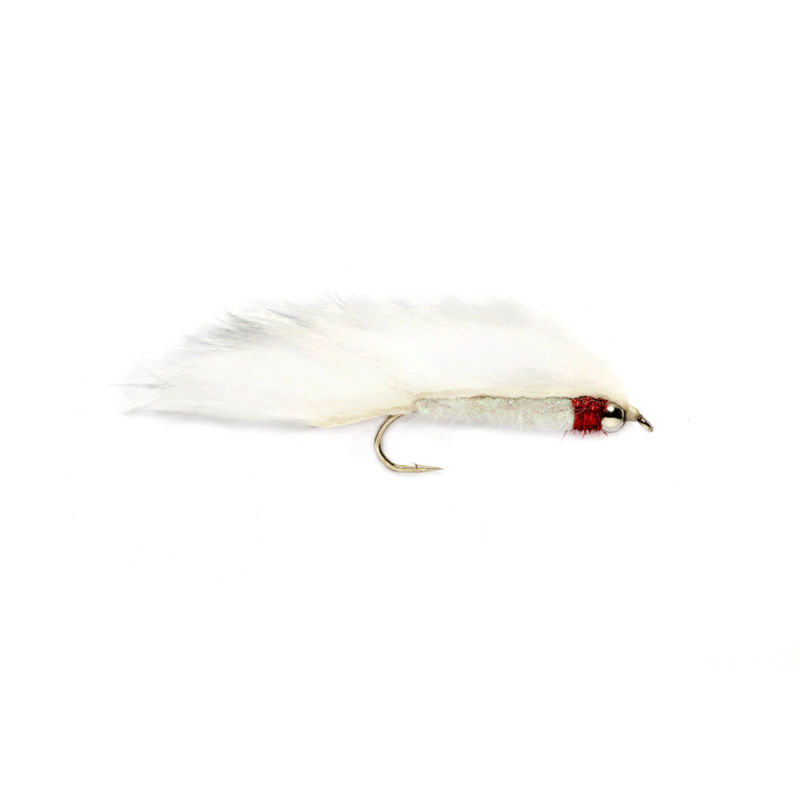 Orvis Westlake's

Recommended Gear
Description:
About Chagrin River
The Chagrin is a medium-sized river with moderate gradient, easily waded by fly fishers. It originates in Geauga County and ultimately winds its way north, entering Lake Erie at Eastlake, OH. It is one of only five Lake Erie tributaries in Ohio that receive annual stockings of steelhead from the ODNR, and provides anglers with exceptional steelhead fishing opportunities from October through April most years. Steelhead are, without question, the main attraction on the Chagrin. During the season steelhead can be found anywhere in the river from the dam in Gates Mills north to the lake. While the peak of the steelhead run in Ohio is typically March and April, fall and winter can offer great fishing as well, with some of the most aggressive fish of the year being taken during October and November. The river is mostly hard-rock shale bottom, with gravel runs and pools holding the highest concentrations of migrating steelhead. It is easily fished with a single-hand rod in the 9 to 10 foot, 7 or 8-weight class. Switch rod models are popular as well, giving anglers the versatility to execute two-handed spey casts along with traditional single-hand nymphing techniques. The river fishes best between 150 and 350 CFS (look at the USGS chart to determine real time flows) In addition to steelhead, the Chagrin holds excellent populations of resident smallmouth bass and carp. These species provide great warm-water fly fishing and are the target species for fly fishers during the months of June, July, August and September. A 9 ft. 6-weight rod is ideal for pursuing the resident fish of the Chagrin, and excellent fishing can be had the entire length of the river, with some of the best fishing found upstream of the Gates Mills dam. Though there are long stretches of private water, the Cleveland and Lake Metroparks provide excellent public access for anglers. An Ohio fishing license is required.
Nearest Airport:
Cleveland Hopkins Int'l airport (CLE), Cleveland-Akron-Canton (CAK)
Hatches:
This fishery is based off of subsurface activity, and there are no key hatches. Matching baitfish (Emerald Shiners, sculpin and crawfish) is more important.
Best Time to Fish:
Afternoon/Evening
Best Stretch:
North Chagrin Reservation
Best Access:
Lower to middle access points