Fishing Outlook & Conditions
Streamside Michigan's Tip of the Week
BOARDMAN RIVER IS NOW CLOSED UPSTREAM OF KEYSTONE ROAD, OPEN DOWNSTREAM TO THE MOUTH. GO TO: https://www.mdnr-elicense.com/? Bundle up! Single digit temps this week with some snow. Use sub-surface techniques such as Euro and swinging to avoid icy guides and frozen fingers. Downtown sections from Union Street dam to the mouth will find steelhead entering mornings and leaving evenings. Resident trout are also available. Robbins Bridge provides best access for swinging flies and Euro nymphing techniques. YOU CAN BUY YOUR 2022 MICHIGAN "ALL SPECIES" FISHING LICENSE BY GOING TO https://www.mdnr-elicense.com Check out the STREAMSIDEORVIS.COM! Stream reports (http://www.streamsideorvis.com/category/stream-reports/), blogs, and great deals!
Water Flow Data
5-Day Outlook
as of 3/20/23
Warmer temps signal the start of Spring this week. Some rain mid-week and lots of sunshine later in the week. Temps in the upper 40's will warm water and help to get fish moving and eating. Cold overnight and mornings, but late afternoons and warm rain will help conditions. Steelhead continue to show up from Tippy Dam to Bear Creek on the lower Manistee and other Lake Michigan tributaries. Some steelhead are coming in and out in the lower Boardman, daily. Go to zip code 49684 for latest weather at your favorite weather site.
Techniques & Tips
as of 3/20/23
Fair streamer fishing this week as temps will be warm enough afternoons to avoid icing. BOARDMAN RIVER UPSTREAM OF KEYSTONE ROAD IS NOW CLOSED FOR THE SEASON SINCE SATURDAY, OCTOBER 1, 2022. UPSTREAM WATER WILL REOPEN THE LAST SATURDAY IN APRIL, 2023.
Local Species
Available Boardman River is closed upstream of Keystone Road
Brook trout

brown trout

— brown & rainbow trout

king & coho salmon

smallmouth below Union St dam
Streamside Michigan's

Recommended Fly Patterns

"Must-have" fly fishing patterns in descending order of importance:
| Name: | Colors: | Size(s): |
| --- | --- | --- |
| Bead Head American Pheasant Tail | N/A | #16 |
| Super Pupa | olive, tan | #14 |
| Bead Head Prince | N/A | #12-14 |
| Blue Winged Olive | N/A | #18-20 |
| Zuggler | white, olive, black, | #4-6 |
| Sparrow | N/A | #10-12 |
| Bead Head Stonefly | N/A | #14 |
| Blue Wing Olive Parachute | N/A | #18-20 |
| Jig-style nymphs | N/A | #14-16 |
| Gartside Soft-hackle Streamer | yellow, black, white | #4 |
Bead Head American Pheasant Tail
Fish these small versions of stonefly nymphs in rivers and streams.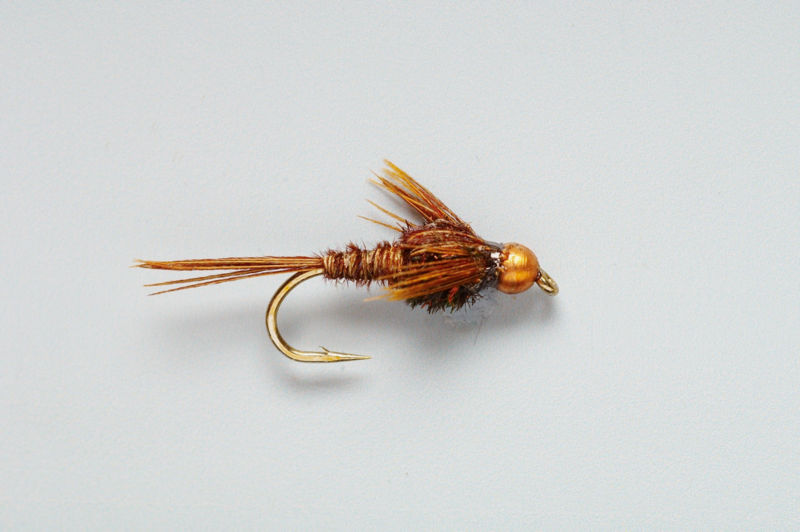 Streamside Michigan's

Recommended Gear
Description:
About Boardman River
BOARDMAN RIVER IS NOW CLOSED UPSTREAM OF KEYSTONE ROAD UNTIL LAST SATURDAY IN APRIL, 2023. The beautiful Boardman River, birthplace of the Adams fly, starts east and south of Traverse City and ends as it flows into the west arm of Grand Traverse Bay in Lake Michigan. Self-sustaining populations of rainbow, brown and brook trout inhabit all sections of the river, but have higher populations of brook trout in the uppermost sections. Favorite hatches include Hendricksons and black caddis in May, sulfurs, brown drakes and isonychia in June, with gray drakes and the famous hex hatch in late June and July. Late July and August terrestrial, trico, and baetis fishing rounds out the summer. Aggressive fall spawning browns chase large streamers and attracters in September as well. The upper Boardman River closes the end of September while the lower river below Sabin Dam remains open all year. In October, the lower river fills with Lake Michigan coho and Chinook salmon. The salmon run culminates in late October with a fall run of steelhead. Steelhead fishing continues all winter and peaks in March and April. These enormous 8 to 15 pound lake-run rainbow trout draw anglers from around the world. The easy gradient and sand and gravel bottom makes wading comfortable with numerous public access points. Both arms of Grand Traverse Bay have wadable flats that will host schools of spawning Great Lakes carp and smallmouth in months of May and June.
Nearest Airport:
Cherry Capital Traverse City (TVC)
Hatches:
Blue Winged Olives (baetis #18-20), tiny black stoneflies (#14), midges Visit the STREAMSIDEORVIS.COM website for blogs, tips, photos... and more! Like us on Facebook too.
Best Time to Fish:
Noon-4pm
Best Stretch:
Above and below Robbins Bridge
Best Access:
Brown Bridge Canoe launch