Fishing Outlook & Conditions
El Pescador's Tip of the Week
Whether heading for El Pescador or any other bonefish/permit/tarpon destination, practice casting for a week or 10 days prior to your trip. Work out any winter-induced kinks and be ready when your guide says, "50-feet mon, 11 o'clock."
Tide data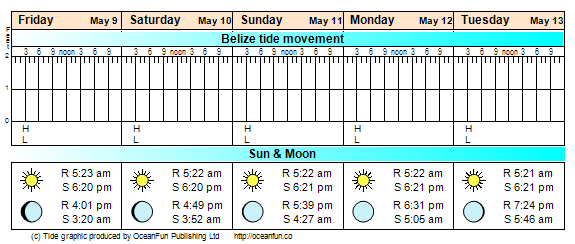 5-Day Outlook
as of 9/12/21
generally clear
Techniques & Tips
as of 9/12/21
Efficient casting. Everything in the salt happens fast, so it's about being ready! Teamwork with your guide - be sure to clearly communicate expectations.
Current Conditions
as of 9/12/21
generally clear
Local Species
Available Year-Around
Primary: Permit

Tarpon

Bonefish; Secondary: Barracuda

Jacks

Ladyfish
El Pescador's

Recommended Fly Patterns

"Must-have" fly fishing patterns in descending order of importance:
| Name: | Colors: | Size(s): |
| --- | --- | --- |
| Popper for barracuda | chartreuse, green | 1 or 1/0 |
| Streamer for barracuda | chartreuse, green | 1 or 1/0 |
| Deceiver-style for jacks | fish imitation | 1 or 2 |
| Baitfish imitation for jacks | dark green, olive | 1 or 2 |
El Pescador's

Recommended Gear
Description:
About Belize
At El Pescador, located on Ambergris Caye, you can achieve the anglers' ultimate dream - a Grand Slam of bonefish, tarpon and permit. Belize's shallow water contains the only classic tarpon flats outside South Florida. Our flats are world renowned for offering the opportunity to site cast to tarpon 12 months a year. You can cast the lagoons for lady fish or snook, go outside the reef into the deep water for tuna and wahoo. Troll the reef for king fish or barracuda. Jig the bottom for snapper and grouper. The choice is yours. Belize Bonefish The bonefish grounds are only minutes from the lodge. Most of the bone fishing is done from the bow of the boat, but there are flats that can be waded as well. The bones run from 2 - 5 lbs and are plentiful. Tarpon in Belize The El Pescador fishery has year round resident tarpon over 100 lbs. The fish are spread out over our 250 square mile fishery. In the late summer (July, August, September), we have the added bonus of a large migratory population, which doubles our tarpon numbers. Moon phases tend to effect tarpon more than other species. The guideline is to fish around the new moon. Remember, this is only a guideline, not a hard and fast rule. We land fish during full moon weeks all the time! Belize Permit Permit are found on the bonefish flats, and on many of the tarpon flats as well. Our permit are found in large schools and range from 4 - 30 lbs, with the majority running about 8 - 10 lbs. Jack crevalle, barracuda, cobia and snook are also found on the flats and in the surrounding mangrove lagoons. Permit, bonefish and tarpon are always released; some snook, snapper, barracuda, & grouper are kept for the table. Approaching four decades of serving avid anglers, El Pescador offers world class diving, snorkeling, majestic Maya ruins, cave tubing, zip lines, and eco-adventures galore. So bring the whole family or group and explore the mystic beauty of the Caribbean and Central America.
Nearest Airport:
Belize City