Fishing Outlook & Conditions
Oregon Outdoor Excursions's Tip of the Week
For Steelhead, Classic Hairwings, Speys and Dees are always a good choice on the swing. Work every piece of holding water thoroughly! Be aware of COVID-19 restrictions! Be safe! For trout, a dry/dropper rig are the way to go for the rest of the spring. A Yak Caddis / Possie Bugger combination will serve you well.
Water Flow Data
5-Day Outlook
as of 3/18/21
Flows are currently around 3050 cfs (at Mehama) but is forecast to drop to 2300 by the weekend.
Techniques & Tips
as of 3/18/21
Steelhead: Classic Wet Fly Swing in runs and tail outs. Trout: Indicator Nymphing through current seams and riffles.
Local Species
Available Year Round
Chinook Salmon

Coho Salmon

Steelhead

Rainbow Trout

Cutthroat Trout
Oregon Outdoor Excursions's

Recommended Fly Patterns

"Must-have" fly fishing patterns in descending order of importance:
| Name: | Colors: | Size(s): |
| --- | --- | --- |
| Meg A Egg Sucking Leech | Black/Purple | 2-6 |
| Showgirl | Purple | 6 |
| Orvis CJ Nymph | Brown | 14 |
| Electric Prince | Copper | 10-14 |
| Elk Wing Caddis | Tan | 10-12 |
| Possie Bugger | Tan | 8-12 |
| Yakcaddis | Tan | 6 |
| Bead Head Soft Hackle Pheasant Tail | Brown | 14-16 |
| Pat's Rubber Leg | Olive | 8-12 |
| Partridge Soft Hackle | Orange | 10-14 |
Meg A Egg Sucking Leech
An effective imitation of a leech and egg, perfect for salmon and steelhead fly fishing.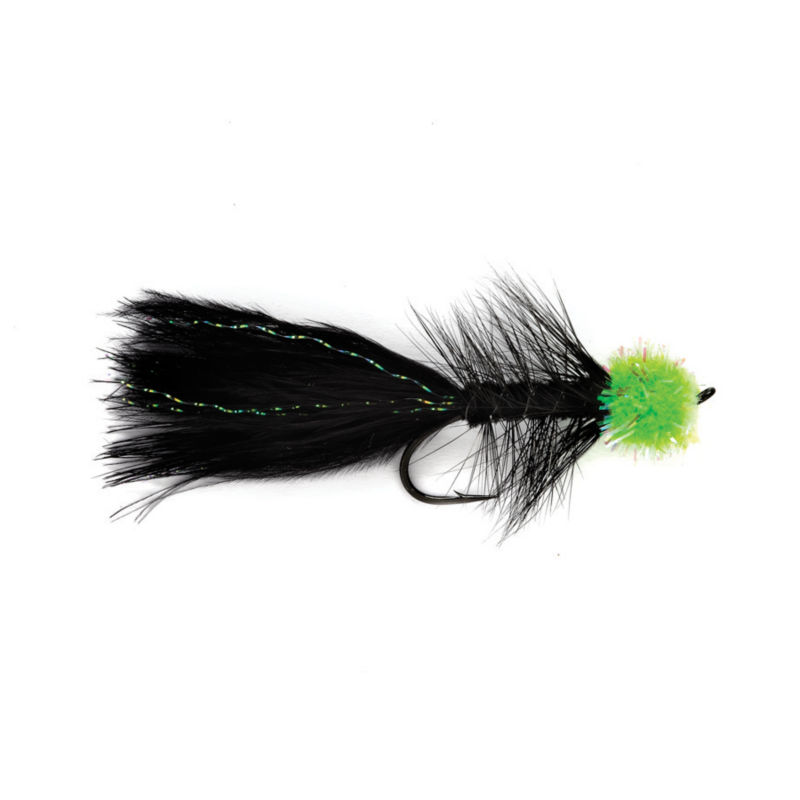 Oregon Outdoor Excursions's

Recommended Gear
Description:
About North Santiam River
The North Santiam is a very diverse and rich system with a variety of fishing options. Rainbow Trout, Cutthroat Trout (resident), Summer and Winter Steelhead, Spring Chinook Salmon and Fall Coho Salmon are present in the system at various times of year making the North Santiam a year round fishery. The North Santiam River is a tributary of the Santiam River approximately 90 miles long. It drains an area of the Cascade Range on the eastern side of the Willamette Valley east of Salem. It rises in the high Cascades in eastern Linn county, northwest of Three Fingered Jack in the Willamette National Forest. It flows north through the mountains past Marion Forks, receiving the drainage from the western slope of Mt. Jefferson. Near Mt. Jefferson it turns sharply west, descending through a canyon past Idanha, Detroit and fills Detroit and Big Cliff Reservoirs. Just downstream of Big Cliff is the uppermost put in for drift boat and raft navigation near the Minto Fish Trap. It is also the end of the journey for anadromous fish species - Chinook, Steelhead and Coho. For the next 12 miles if flows through a forested canyon past the towns of Gates, Mill City, Lyons and Mehama. It emerges through the foothills into the Willamette Valley near Stayton, then flows southwest through farmlands where it joins the South Santiam River near the town and Jefferson. January through April marks the return of Wild Winter Run Steelhead, followed by Hatchery raised Spring Chinook and Summer Steelhead from May - August. Wild Coho Salmon are found in the system from October - November. Native Rainbows and Cutthroat, along with Cutthroat-Rainbow Hybrids (Cuttbows) are found in the river year round. There's never a bad time to fish the North Santiam!
Nearest Airport:
Portland, Oregon (PDX) - Euguene, Oregon (EUG)
Hatches:
Caddis (Speckled, Tan, Brown, McKenzie and October) Stoneflies(Skwala, Golden, Giant Salmonfly) Mayflies (March Brown, BWO, PMD) Terrestrials (Hoppers, Ants, Beatles)
Best Time to Fish:
All Day
Best Stretch:
Mill City to Mehama
Best Access:
Fisherman's Bend Rec. Area