Fishing Outlook & Conditions
Stream and Brook Fly Fishing's Tip of the Week
Use an indicator and work under the many waterfalls around the fast water. I use a cone head Wolly Bugger as the lead fly. Mostly in Black, White or Rusty Brown. Off the bend of the hook add 20" of tippet and tie on a Prince Nymph, Golden Stone or Copper John. This is a great way to cover lots of water and catch some nice Trout. The Otter has been so high that you will be able to work many areas that have not been fished yet this season! I tend to use a 9' 6wt for this so you can flip this set up father up into hard to reach places. I had a client from Seattle doing this Monday in the Rutland area and he caught 4 or 5 nice Browns. Some on the streamer and a few on the dropper nymph. He also caught two nice Browns in an Ausable Bomber. First dry fly action I've seen this season!
Water Flow Data
5-Day Outlook
as of 7/20/17
The current flow of the Otter is 1280 with great clarity. The water temp is 40. The Otter will be high for probably at least two weeks. Very little water flooded into fields as most has drained back into the river.
Techniques & Tips
as of 7/20/17
This time of year the Pike fishing is outstanding ! Yesterday I had a client catch 4 Pike. His first one ever was 33" and we ended the day getting a trophy that was just over 39"!! We were focusing on spots where rivers and farm field ditches enter the Creek. We caught fish in Proctor all the way to Weybridge. It was a full day walk n wade trip and we covered a ton of water. Pink / White and Red / White flies had the most action. Use a 8-10wt with sinking line. Have a steel leader, have long nose pliers and a big net with you when targeting Pike.
Local Species
Available Year Round
Brown & Rainbow Trout

Fallfish

Smallmouth Bass & Pike !
Stream and Brook Fly Fishing's

Recommended Fly Patterns

"Must-have" fly fishing patterns in descending order of importance:
| Name: | Colors: | Size(s): |
| --- | --- | --- |
| Foam Park Hopper | N/A | 12-14 |
| Bead Head Prince | natural | 6 |
| Conehead Rubber Bugger | Green | 14-20 |
| White Zonker | Olive/White | 6-12 |
| Muddler | natural | 6-10l |
| Gray Fox Variant | Pink | |
| Copper John | usual | 10-14 |
Foam Park Hopper
An effective Yellowstone area grasshopper fly pattern that will work well for you locally, too.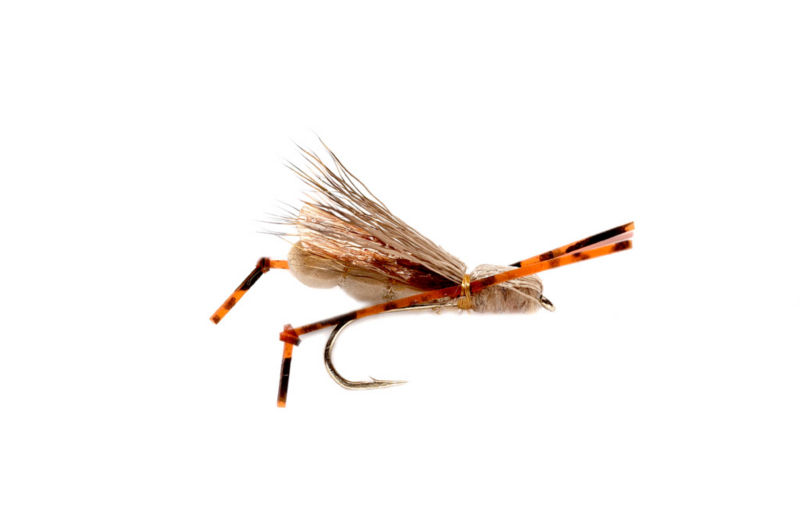 Stream and Brook Fly Fishing's

Recommended Gear
Description:
About Otter Creek
Lower Otter Creek is an interesting mixed fishery that starts at Rutland and flows north through Middlebury and Vergennes before reaching its final destination at Lake Champlain. It is a good sized river for Vermont and increases in volume as it runs its course. Much of the river between Rutland and Vergennes is inhabited by warmwater species such as northern pike, smallmouth bass and fallfish but at numerous dams and at the influxes of several coldwater tributaries trout, sometimes of impressive size, can be found. Lower Otter Creek is open to fishing year round and presents some of the best winter fishing for trout in Vermont. Open water can often be located be found below dams and fishing with nymphs and streamers can result in some decent action on warm winter days. The Otter is well known for its extensive wetland complexes in the spring time when the river jumps its banks. These setbacks are a good place to seek out pike after the spawn. Anglers plying these waters with canoes and kayaks during the late spring through early fall can be rewarded by the crash of a pike on streamers and topwater flies. These toothy predators are found in good numbers and size in the many logjams in the river. Smallies will often come to the same flies. The downside to these logjams is that they can make travel along the river difficult at times. Tributaries to Otter Creek in this stretch offer excellent fishing in their own right. Brown, rainbow and brook trout are found in the New Haven River, Middlebury River, Neshobe River and Furnace Brook. The middle upper sections of these rivers offer fun dry fly options and the lower stretches can fish very well with streamers and nymphs but can be difficult to fish because of jungle like conditions. However a diligent angler's difficulties can be rewarded with a large wild brown trout.
Nearest Airport:
Burlington International and Rutland Regional
Best Time to Fish:
mid morning
Best Stretch:
Sudbury
Best Access:
West Rutland