Fishing Outlook & Conditions
Captain Barry K 's Tip of the Week
Like to thank everyone who fished with us this year. Enjoy the holidays and happy new year. We are closed till Spring of 2022.
Tide data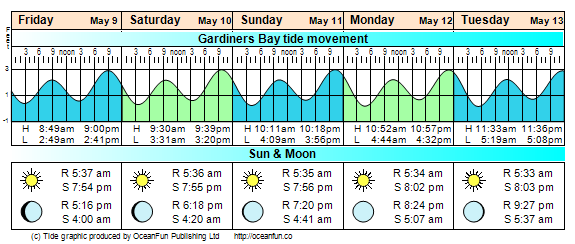 5-Day Outlook
as of 12/1/21
Albies, Bonito, Stripers, and Bluefish are all here. Let's go get'em! Pick up the phone. 516-238-7642 and you are in. The Montauk Fall run is here and will continue through November. Fall is in the air.
Techniques & Tips
as of 12/1/21
Only one way to experience all that fishing Montauk offers. Be there.
Current Conditions
as of 12/1/21
This is what we've been waiting for. Check out "Photos of the Month" on our website www.naturalanglers.com to see what happening in Montauk
Local Species
Available Spring, Summer and Fall
Stripers

Bluefish

Bonito

False Albacore
Captain Barry K 's

Recommended Fly Patterns

"Must-have" fly fishing patterns in descending order of importance:
| Name: | Colors: | Size(s): |
| --- | --- | --- |
| Skipping Bug Popper | green/white | 2/0 |
| Premium Bonefish Selection | blue/ white | 2/0 |
Captain Barry K 's

Recommended Gear
Description:
About Gardiners Bay
Montauk Long Island waters home to hungry Stripers, Albies, Bonito, Weakfish, and Blues. To book a trip go to our website www.naturalanglers.com Sparkling North Atlantic waters surround Long Island. Anglers enjoy superior fishing opportunities for trophy Stripers, Weakfish, False Albacore, Bonito, Bluefish & Spanish Macs, May through December. Experience excellent sight fishing May-October. Montauks "Fall Run." Keep up with what's happening on our water's with daily fishing updates at www.naturalanglers.com "One on One, Fly-fishing, and Casting classes available." Novice to expert welcome. Gift Certificates available.
Nearest Airport:
Kennedy, MacArthur, Montauk & East Hampton
Bait Recommendations:
Bay Anchovies, silversides, snappers, and small bunker. Check our daily fishing reports at www.naturalanglers.com Thanks Capt. Barry Kanavy